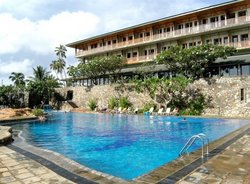 While maintaining the unique appeal of this iconic structure we have ensured that that the services and facilities of the hotel have been continuously reinvented in order to cater to the expectations of today's traveller
(PRWEB) April 24, 2010
The year 1970 saw the revelation of a gem to the tourism industry of Sri Lanka, Bentota Beach Hotel. Designed by the world famous architect, the late Geoffrey Bawa, this iconic Sri Lanka beach hotel has been in existence through the highs and lows of the industry to stand out among the rest.
A name synonymous with Bentota remains to be Bentota Beach Hotel. As one of the first purpose built resort hotels in the nation, Bentota Beach Hotel immediately set the standard by which other Sri Lanka hotels would be judged. The concept of Geoffrey Bawa's design for the xhotel evolved around medieval manor houses, ancient palaces and colonial villas. And today, the unique concept and design live on.
Sri Lanka is blessed with sun kissed beaches that are among the topmost attractions that the island has to offer. From the turquoise waters of the east to the indigo seas of the south, endless stretches of sun and waves lapping the shore have lured and seduced multitudes. Bentota remains among the most popular beaches to visit. Situated 60 kilometres from the capital city of Colombo, Bentota provides numerous opportunities to engage in water sports, visit nearby cultural sites, watch baby turtles at the nearby turtle hatchery and experience local arts and crafts, all while appreciating the broad golden expanses of the Southern Coast of Sri Lanka.
The location of the hotel itself is strategic and offers spectacular views of the Indian Ocean and the Bentota River. Placed on a hillock that was once where a Dutch fort stood, the combination of granite, polished concrete, terra cotta tiles, dark stained timber, batik and handlooms gives Bentota Beach Hotel a well lived in and inviting feel. A range of rooms are on offer, from Standard Rooms to Luxury Suites that come with four-poster beds and satin draping.
In 1991 Bentota Beach Hotel came under the umbrella group of John Keells Hotels, rendering its growing fame and standard to this pioneering hotel chain. Commenting on their popular hotel in Bentota, Sithara Hafeel, Head of Marketing Development, John Keells Hotels Group commented, "The legendary Bawa modelled the design based on a Dutch Fort which was said to have existed in the area and the hotel is built on a remodelled bastion. While maintaining the unique appeal of this iconic structure we have ensured that that the services and facilities of the hotel have been continuously reinvented in order to cater to the expectations of today's traveller."
# # #