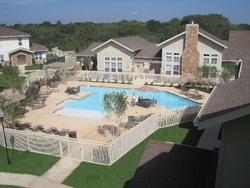 These functional and spacious apartment homes are destined to be the neighborhood of choice for many Ft. Worth residents who are seeking affordable housing. Our goal is to create a sense of community that will develop positive neighborly spirit through an awareness of common needs, and enhance individual support systems and increase awareness of local programs and services
San Antonio, TX (Vocus) April 25, 2010
The NRP Group LLC announced it has begun pre-leasing Woodmont Apartment Homes for Summer 2010 move ins. Woodmont is a 252 unit multifamily affordable community boasting 1, 2, 3, and 4 bedroom apartment homes in 15 buildings and a clubhouse. The new community is located at 1021 Oak Grove, Ft. Worth TX 75115
"These functional and spacious apartment homes are destined to be the neighborhood of choice for many Ft. Worth residents who are seeking affordable housing. Our goal is to create a sense of community that will develop positive neighborly spirit through an awareness of common needs, and enhance individual support systems and increase awareness of local programs and services," said Jeff Condit, Regional Vice President, The NRP Group LLC. "This architecturally aesthetic gated community is designed to provide maximum comfort and superb amenities for working families." Woodmont residents will enjoy features including a spacious clubhouse with community room, swimming pool, two playgrounds, a horseshoe pit, fitness facility and resident computer center with internet access, in addition to private patios and balconies.
Woodmont is located within 5 miles of major retailers, grocery, and medical centers with easy access to I-20 and I-35. Schools are in the Ft. Worth Independent School District. Woodmont is also a pet friendly community.
For more information about Woodmont Apartment Homes visit http://www.woodmontapartmenthomes.com or call 210-487-7880.
The NRP Group LLC: Developer, Builder and Management Company
The NRP Group is a full-service developer, general contractor, and property manager providing a broad range of services. From start to finish, every project The NRP Group takes on is carefully contemplated and executed to maximize investment return, cost efficiency, productivity and satisfaction. The NRP Group has been recognized as NAHB's 2009 Multifamily Development Firm of the Year and has been ranked number one in the Top 50 Affordable Housing Developers for 2007, 2008 and 2009 by Affordable Housing Finance.
Since it's founding in September 1995 by Alan F. Scott, T. Richard Bailey and J. David Heller, the company has experienced continual growth in the fields of single-family, multi-family and senior housing, as well as commercial and retail properties. In all, more than 13,500 multi-family and single-family housing units have been built with another 2,275+ planned in 2010.
In 2003, the owners formed NRP Management, which by year-end 2010 will manage nearly 70 properties encompassing over 7,500 market rate and tax credit family and senior apartment properties in Ohio, Michigan, North Carolina, Virginia, Texas, Indiana, New Mexico and Arizona.
The NRP Group, LLC has offices in San Antonio, Texas; Cleveland, Ohio; Phoenix, AZ; Raleigh, North Carolina; for more information, call (210) 487-7878 or visit http://www.nrpgroup.com.
# # #