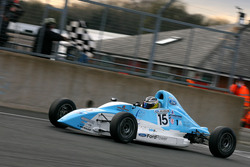 (PRWeb UK) April 24, 2010
Signs Express (Birmingham SW), based in Bromsgrove and covering Redditch and the surrounding areas, has been working with up and coming racing driver Jake Green - providing sponsors logos and graphics for his Formula Ford racing car. For more information on Signs Express visit Signs Express.
At just 17 years old, Jake has had an impressive start to the sport, which has included a podium finish last season in his second ever Formula Ford race.
He is also the youngest ever winner of the MSA Superkart Grand Prix, aged just 16.
This season he has been selected to be the works driver to develop a new race car by New Formula Ford Chassis designer, Ewan Baldry (Ex Williams F1 Employee), Technical Manager of his company – Juno UK, a major sports car manufacturer who has joined with Kidderminster based Century Motorsport, headed by Nathan Freke, the 2006 British Formula Ford Champion.
Jake said,"I think the team will be very good for me, the amount of experience, knowledge and talent in the team is great, I have very good people around me and there is the positive attitude from us all to succeed. The team has a very good structure which I think is vital to our success; I do believe we will be fighting for wins at some stage.
"I want to reiterate my thanks to Juno and Century Motorsport for the faith they have shown in me. It goes without saying how much I appreciate this chance, and realise the opportunity I have been given for some-one who hasn't got a huge amount of experience."
He will be racing under number 15 in the Dunlop MSA Formula Ford Championship of Great Britain.
His car is: Juno JA2010 Formula Ford run by Century Motorsport.
Nathan Freke, Century team principal commented, "Following the media day at Oulton Park everyone was happy with Jake in the car. He fits well with the team and shares the same passion to win. The team is totally focused on putting the car at the front of the grid and with our experience and the input from Juno I really think we can fight for wins before the year is out."
Joe Smith, owner of Signs Express (Birmingham SW), who will be tracking the young drivers career closely and has high hopes for his success, was delighted to provide support by supplying vehicle graphics of sponsors logos.
Jake is in need of raising further funds for race entry fees and most importantly, test days.
If you are interested in supporting Jake please contact him on 07731 434 825 for more information or visit Jake Green Racing
# # #