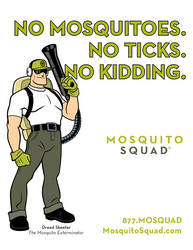 "I knew Marietta needed Mosquito Squad when I found myself swatting away bugs on the porch one night," says Kelly Sanders. "I needed our products, and others will too."
Marietta, GA (PRWEB) April 26, 2010
Mosquito Squad mosquito control, the mosquito exterminator, is happy to announce Steven and Kelly Sanders as their newest franchisees in the Marietta, GA area. Mosquito Squad of Marietta is now providing mosquito and tick control through the spring and summer seasons.
"We're excited to have Steven and Kelly as part of the Mosquito Squad team," says Boyd Huneycutt, Vice President of Operations at Mosquito Squad mosquito control. "They have the business background and enthusiasm that makes a new location successful."
Steven Sanders also owns TradeMark Stair Design and decided to open a Mosquito Squad with his brother, Kelly, after seeing yard signs in the Greenville area. "For anyone who has ever tried to enjoy their outdoor living space in Marietta, the constant battle against mosquitoes can leave them too distracted to enjoy themselves," says Steven. "We're happy to bring Mosquito Squad to the area. Our solutions will help keep mosquitoes and ticks away from peoples' properties as well as protect them from the dangerous diseases these insects carry."
"I knew Marietta needed Mosquito Squad when I found myself swatting away bugs on the porch one night," says Kelly. "I needed our products, and others will too."
Mosquito Squad mosquito control is North America's fastest growing outdoor living concept franchise. Known as the "mosquito exterminator," Mosquito Squad mosquito control currently has five ways to ensure affordable, dependable and effective protection against the nuisance and dangers of mosquitoes (and ticks in participating locations) and the diseases they can carry, like West Nile Virus, Encephalitis and Lyme Disease, just to name a few.
1. 21-day Barrier Spray, which kills on contact and continues for three weeks.
2. 14-day All-Natural Spray, which kills adult mosquitoes on contact and has a two-week repellent effect.
3. Intensive Tick Treatment to reduce the spread of Lyme disease.
4. Special Event Spray for mosquito-free outdoor parties, weddings, picnics and concerts.
5. Automatic Misting System providing continuous control 24 hours a day, 7 days a week, via timed bursts of protective sprays at key times when mosquitoes are at their most active.
The Mosquito Squad mosquito control technology is similar to that which has proven to be extremely effective in the dairy farm and horse industries in controlling annoying flying insects. Part of Outdoor Living Brands' franchise company based in Richmond, VA, Mosquito Squad mosquito control keeps families, residences, businesses and special events like outdoor weddings and picnics mosquito-free. Mosquito Squad mosquito control was recently rated one of the Top 50 Franchises by Franchise Business Review and received their 2010 Franchisee Satisfaction Award. Mosquito Squad mosquito control also received the World Class Franchise Designation from the Franchise Research Institute.
For more information, visit http://www.MosquitoSquad.com. To find Mosquito Squad mosquito control near you, call toll-free 877 MOSQUAD, or 877-667-7823. For information on Mosquito Squad mosquito control franchise opportunities, call 800-722-4668 and ask for Franchise Recruitment. Online, visit us at http://www.mosquitosquad.com/FranchiseOpportunities.html.
###