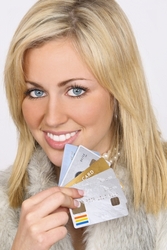 "We launched this company and site to help consumers research and compare various options,so that they can make informed decisions when applying for a credit card."Add a quote
Dallas, TX (PRWEB) April 29, 2010
Best Rate for Credit Cards, an online resource dedicated to providing valuable information about credit cards and credit card offers, announces its recent launch. This new site provides insight on a variety of credit card offers, including rewards cards, business cards, student cards, pre-paid cards, secured cards and cards for consumers with poor credit.
"Ever since the CARD Act of 2009 was passed and credit card issuers saw that some of their income sources were about to vanish, they've been working to find new ways to protect their profits. Some raised their interest rates across the board while others switched to variable rate interest tied to the Prime Rate. Annual fees are now common, and credit card rewards programs have either disappeared or changed," says James Exum of Best Rate for Credit Cards, "We launched this company and site to help consumers research and compare various options, so that they can make informed decisions when applying for a credit card."
Every credit card issuer seems to take a slightly different approach to preserving profits. Some issuers are even taking different approaches with each of several different credit card offers. That's why doing the research and making comparisons between credit card offers before applying is so important.
By making comparisons, a consumer can choose the credit card that makes the most financial sense for the way it will be used. For instance, it might be wise to pay an annual fee if the card offers high cash-back rewards and will be used often. It might also be wise to pay that annual fee in exchange for a low interest rate if the user knows he or she will have to carry a balance. Conversely, individuals might want to choose a credit card with no annual fee and a high interest rate if the card will only be used occasionally and if the balance will be paid each month.
"Applying for only the card that fits your use will help protect your credit scores as well as your wallet. Every credit application lowers your credit scores, so be sure to read the eligibility guidelines as well as the terms. Then apply only if you qualify," Exum says.
The site also provides information about credit cards and their use. The Best Rate for Credit Cards Blog offers advice on such topics as raising credit scores, preventing identity theft and credit card scams to look out for. There's even an article about the history of credit cards.
For more information about credit cards or the various types of credit card offers, visit http://www.BestRateForCreditCards.com.
Contact:
James Exum
214-499-7413
exumjames(at)sbcglobal(dot)net
###