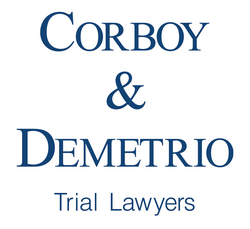 During the course of extensive discovery in the federal action, Corboy & Demetrio developed evidence indicating that the safety sensors on the Viktor strapping machine were not adequate to prevent the incident which caused Mr. Navarro's injuries and the lack of fencing around the conveyor system manufactured by MASA was known by them to be potentially dangerous
Chicago, IL (Vocus) April 24, 2010
Corboy & Demetrio announced that it has resolved a product liability/workplace injury case on behalf of a laborer who was injured while working at Unilock, Inc. The case was pending in the U.S. District Court for the Northern District of Illinois before Judge William T. Hart. Attorneys Michael K. Demetrio and Edward G. Willer of Corboy & Demetrio represented the worker.
On August 1, 2005, Guillermo Navarro was employed as a laborer at Unilock, Inc., in Aurora, Illinois. His duties required him to work with complex conveyor machinery that binded pallets of bricks. That machinery was manufactured and designed by MASA Aktiengesellschaft (MASA) and its operational computer software was designed by Viktor Ridder GmbH, (Viktor) both German manufacturing entities. On August 1, 2005, while Navarro was using the machine, it unexpectedly malfunctioned causing over a ton of bricks to strike him. Navarro suffered extensive internal injuries.
"During the course of extensive discovery in the federal action, Corboy & Demetrio developed evidence indicating that the safety sensors on the Viktor strapping machine were not adequate to prevent the incident which caused Mr. Navarro's injuries and the lack of fencing around the conveyor system manufactured by MASA was known by them to be potentially dangerous," Attorney Willer stated.
MASA, Viktor and Unilock all agreed to a voluntary mediation conference with plaintiff before the Honorable Stuart Nudelman. Mr. Demetrio stated: "Judge Nudelman worked nonstop for over 11 hours with all parties to bring about a settlement package of $4.4 million that will ensure Mr. Navarro's medical needs will be met and the financial security of his family ensured."
The case was filed in the U.S. District Court for the Northern District of Illinois. Guillermo Navarro v. MASA Aktiengesellschaft, a foreign corporation, and Viktor Ridder GmbH, a foreign corporation. Case number 06 C 4352.
To learn more about Corboy & Demetrio's accomplishments, visit Our Record of Success.
About Corboy & Demetrio
The Chicago personal injury law firm of Corboy & Demetrio is one of the nation's premier law firms. It represents individuals and their families in serious personal injury and wrongful death cases arising out of airplane and railroad disasters, failed products, medical malpractice and a host of other catastrophic events. On behalf of its clients, Corboy & Demetrio has acquired more than $3 billion in settlements and verdicts, of which nearly 600 were in excess of $1 million.
###