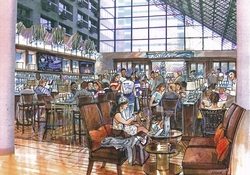 BlueFire Bar & Grill will enhance the guest experience for both business and leisure travelers
Lexington, KY (PRWEB) April 28, 2010
The Hyatt Regency Lexington hotel announced today that it will open a BlueFire Bar & Grill in the lobby of the hotel. The new concept and design for the downtown Lexington restaurant includes breakfast, lunch and dinner service, free Wi-Fi and seating for up to 250 guests. The $1 million restaurant project will be completed by July 2010 and will not be a disruption to guests staying at the hotel.
The new restaurant and bar will have an upscale ambiance with wood flooring, flat-panel HDTVs, sofa seating, a fountain and a color-changing LED lighting element. The menu will feature traditional Kentucky cuisine presented with a unique style, local craft beers and Kentucky bourbons.
"BlueFire Bar & Grill will enhance the guest experience for both business and leisure travelers," said Larry Bell, general manager of the Hyatt Regency Lexington hotel. "BlueFire's menu is rich with imagination and flavor, and our goal is to be the best bar and grill in downtown Lexington."
The bar area of the downtown Lexington restaurant will be moved from its current location and will face the hotel entrance. In the center of the back bar will be a 60" HDTV with cubbies on either side to display local artwork. Two communal tables with power outlets and built-in lamps will be available for guests to use their laptops. With its proximity to Rupp Arena, BlueFire Bar & Grill is expected to be a favorite for downtown residents, concert-goers and University of Kentucky fans.
"We're excited to bring a new dining option to the local community," said Bell. "BlueFire Bar & Grill will give people who live and work downtown the opportunity to enjoy a casual dining experience in a contemporary setting that's close to home and the office."
The downtown Lexington restaurant will replace the Glass Garden Restaurant and Bar currently located near the lobby. Food and beverage services will be moved to the Kentucky Room and Hyttops Sports Bar until the renovation is complete.
The Hyatt Regency Lexington hotel completed a $16.4 million renovation in 2009 that included all 366 guestrooms, meeting space and the lobby. The newly renovated guestrooms include the Hyatt Grand Bed™ complete with plush pillow top mattress, a 32" flat panel HDTV, an iHome stereo with iPod® docking station, and a state-of-the-art work center with ergonomic chair and high speed Internet access. Guest bathrooms include an updated shower and a natural stone vanity. The hotel renovation resulted in a 25 percent reduction in energy use.
For more information or reservations at Hyatt Regency Lexington, call 800-233-1234 or visit lexington.hyatt.com].
About The Procaccianti Group (TPG)
The Procaccianti Group (TPG) is a second generation, privately held real estate investment company that specializes in acquisition, renovation and management of investment real estate. TPG has owned or developed more than 20 million square feet of real estate valued at more than $6 billion. The Procaccianti Group is one of the top five privately held hotel owner operators in the United States. For more information visit http://www.procgroup.com .
MEDIA CONTACT:
Stephanie Apple
Preston-Osborne
502.322.6632
###