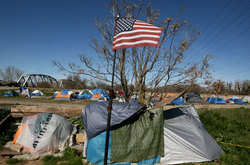 Putting on a fresh clean pair of socks is a mundane routine for most people, but for the homeless it is a moment of relief.
San Diego, CA (PRWEB) April 27, 2010
Sugar Free Sox announced today that for every pair of their diabetic socks sold the company will donate a pair to the U.S. Homeless. The donation drive is underway and will last until May 31. The one pair for every pair sold program will be implemented in partnership with Soles4Souls, the international shoe charity. Soles4Souls has donated more than 8 million pairs of shoes worldwide, and most recently committed more than 1.3 million pairs to the victims of the Haitian earthquake.
Sugar Free Sox is committed to helping the U.S. Homeless community with the overwhelming need for proper footwear. Socks are often overlooked in the donation process, but they can also make a difference in the lives of many. Sugar Free Sox President Gary Meade said, "Putting on a fresh clean pair of socks is a mundane routine for most people, but for the homeless it is a moment of relief."
"We are excited about our partnership with Sugar Free Sox and their generous commitment," said Wayne Elsey, Founder and CEO of Soles4Souls. "Their donation can truly change someone's life, and brands like Sugar Free Sox are making a huge impact on the community with their long-term commitments to make a difference."
Sugar Free Sox include a non-binding top, seamless toe and are anti-microbial coated, they will be especially comfortable to the large diabetic homeless population. Purchase these comfy socks for yourself and support those in need at http://www.SugarFreeSox.com or call 868.481.7691
###