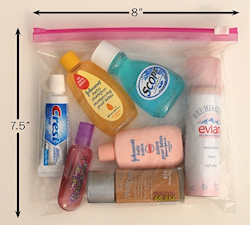 We are committed to providing air travelers and others with an easy, convenient, secure, and cost-effective place to purchase all of the travel or trial size toiletry products they may need.
Northborough, MA (PRWEB) April 26, 2010
TravelToiletryKits.com announces the availability of travel and trial size versions of hundreds of popular brands of toiletry items, personal care products, and cosmetics, for both men and women. All of the items available also meet the size requirements of the US Transportation Security Administration for air travel carry on baggage.
The US TSA now requires that any personal care items, such as liquids, gels, and aerosols, must meet certain requirements in order to be taken through an airport security checkpoint and onto a commercial flight--what they call the 3-1-1 rule. Specifically, each item must be in a three ounce (or less) by volume container and all items must be contained in a one quart-sized, zip top, clear, plastic bag, with one such bag per passenger. All of the toiletry, personal care, and cosmetic items offered at TravelToiletryKits.com are under 3 ounces and so easily meet these requirements.
TravelToiletryKits.com also provides a free TSA approved one-quart, zip top, clear plastic bag with every order.
On request, TravelToiletryKits.com can also ship your order directly to your travel destination or hotel.
Items available include baby care products, deodorants/antiperspirants, body sprays, hair styling gels, hairspray, shampoo, conditioners, toothpaste, mouthwash, shaving cream, after shave lotion, skin creams, hand lotions, aromatherapy products, moisturizers, body wash, body powders, foot care products, insect repellants, lip balms, sunscreen, suntan lotion, nasal spray, nail polish remover, makeup remover, antibacterial wipes, and others.
Many of the items offered are organic and/or fragrance free.
Brands offered include Johnson & Johnson, Mennen, Dial, Dove, Right Guard, Old Spice, Secret, Soft & Dri, Ban, Arrid, Tom's of Maine, Pantene, Tresemme, Breck, Head & Shoulders, EO, Visine, Cutex, Pond's, Crest, Colgate, Scope, Listerine, Aquafresh, Arm & Hammer, Gillette, Nivea, Gold Bond, Old Spice, Purell, DrScholl's, Blistex, Vaseline, Coppertone, Lubriderm, and Aveeno, among others.
TravelToiletryKits.com is also a primary online retailer for Light Load Towels – full size, strong, absorbent, and biodegradable hand towels, bath towels, and beach towels that are compressed into a compact package small enough to fit into your pocket.
Shipping within the continental United States is always free for website orders over thirty dollars.
For retailers, sports franchises, charitable organizations, corporations, the entertainment industry, the transportation industry, the travel industry, schools, and governmental agencies, and others, TravelToiletryKits.com offers bulk discounts through its wholesale program. A catalog of wholesale items available can be downloaded from the website in PDF format. It is also attached to this press release.
For more information, visit TravelToiletryKits.com.
Based in Northborough, Massachusetts, and founded in 2007, TravelToiletryKits.com is committed to providing air travelers with an easy, convenient and secure place to purchase all of the travel size toiletry and personal care products they may need.
###