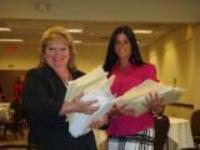 Response was incredible. We were anticipating a large crowd, but this just blew us away! We have two apps for each apartment at this point
Cleveland, OH (Vocus) April 25, 2010
Even though move-ins aren't anticipated until June, that didn't stop the nearly 200 people that showed up at a local hotel within two days to fill out applications to live at North Central Village Senior Apartment Homes located at 2200 Foundation Drive, Columbus, Ohio. Director of Compliance, Darlene Carriker; Regional Marketing & Leasing Manager, Jennifer Skvarch, and Regional Vice President of Property Management, Joe Largey, welcomed an overwhelming crowd of potential residents this morning at an area hotel conference room. In the first three hours, the team had taken 150 applications.
"Response was incredible. We were anticipating a large crowd, but this just blew us away! We have two apps for each apartment at this point," said Joe Largey. "It's comforting to know that The NRP Group will be building another 54 unit, four-story affordable senior apartment building located in the Franklinton neighborhood near Mr. Carmel Hospital's West campus to be completed in 2011."
North Central Village Senior Apartments are comprised of 74 two-bedroom cottage-style single-story apartment homes for seniors 55 and over and offers:

Fully-equipped kitchen with stove, dishwasher, refrigerator and disposal
Washer & dryer connections
Extra storage and large closets
Window coverings
Attached garage with remote opener (*some units)
Clubhouse with kitchenette
Community room with cathedral ceiling and fireplace
Resident computer center with internet access
Laundry facility
Planned activities and social events
Construction Project Manager, Mike Ekis, said of the development, "North Central Village is surely a catalyst for all of the new and exciting things that will be happening in that area of Columbus. Plus it's a centerpiece in the overall master plan that MiraCit Development Corporation has put together."
For more information, visit http://www.northcentralvillageapts.com , or call 216-475-8900.
The NRP Group LLC: Developer, Builder and Management Company
The NRP Group is a full-service developer, general contractor, and property manager providing a broad range of services. From start to finish, every project The NRP Group takes on is carefully contemplated and executed to maximize investment return, cost efficiency, productivity and satisfaction. The NRP Group has been recognized as NAHB's 2009 Multifamily Development Firm of the Year and has been ranked number one in the Top 50 Affordable Housing Developers for 2007, 2008 and 2009 by Affordable Housing Finance.
Since it's founding in September 1995 by Alan F. Scott, T. Richard Bailey and J. David Heller, the company has experienced continual growth in the fields of single-family, multi-family and senior housing, as well as commercial and retail properties. In all, more than 13,500 multi-family and single-family housing units have been built with another 2,275+ planned in 2010.
In 2003, the owners formed NRP Management, which by year-end 2010 will manage nearly 70 properties encompassing over 7,500 market rate and tax credit family and senior apartment properties in Ohio, Michigan, North Carolina, Virginia, Texas, Indiana, New Mexico and Arizona.
The NRP Group, LLC has offices in Cleveland, Ohio; San Antonio, Texas; Phoenix, AZ; Raleigh, North Carolina; for more information, call (216) 475-8900 or visit http://www.nrpgroup.com.
# # #