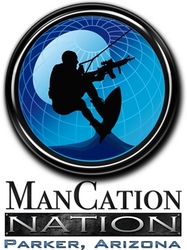 "It's about a bunch of guys getting together and spending a week or so having the most fun of their lives: bonding like brothers." - Randy Goodman
Parker, Arizona (PRWEB) April 27, 2010
Sometimes men just need to get away, and the men behind ManCation Nation have created the ultimate getaway. ManCation Nation provides the perfect men's vacation packed with high octane, adrenalin-pumping fun. Located in picturesque Parker, Arizona right on the Colorado River, ManCation Nation provides a perfect combination of extreme water sports, exotic weapons, and a multitude of other activities that will make your adventure unforgettable and will become part of your annual "guys getaway" for years to come.
ManCation Nation is a world unto itself and it starts with the coolest place on the Colorado River Riviera: The Man Cave. This magnificent home sits right on the water with the living area upstairs overlooking the pristine waters of the Colorado River. The Man Cave features a great room, an enormous dining table, game table, big screen plasma televisions, wireless internet and your own personal chef to make sure you never go hungry. There are large couches and recliners, home theater, a covered deck that provides a front row view of the river activities and comfortable outside seating with a private dock below for all of the water toys.
ManCation Nation is all about extreme water sports and they are fully prepared to teach and instruct anyone from novice to full-blown expert. If you want to learn how to flip or spin on a wakeboard, ride a Sky Ski, their instructors can teach you. You can water ski, wake board, wake surf, tube or knee board too. Water temperature is 80 degrees during ski season so surf till you drop and then kick back between sessions on the ManCation Party Deck Boat that tags along to accommodate guests with ice chests full of good chow and cold drinks.
If you have ever wondered what it would be like to fire some of the most powerful tactical military weapons in the world, then ManCation Nation's Tactical Weapon Experience is just what you've been looking for. Sheriff Rick Paterson and his highly trained staff will instruct you how to handle these exotic weapons. Sheriff Rick's number one priority is safety, but he will push you to the limit. You will experience everything from close hand gun work in a shoot room of 25 feet to taking out targets with a .50 caliber sniper rifle. Under Sheriff Rick's tutelage you will enjoy an exciting, yet safe and rewarding shooting experience with rare, exotic weapons. It's an adrenaline rush that's hard to match.
The man behind ManCation Nation is Randy Goodman, Founder and President. Randy is a 30-year Fireman, and a 12 year Captain. For seven years he owned and operated a racing shop for vintage cars and Formula Atlantic. He won a driver's championship in formula cars in 1990. He spent 12 years touring, building and filming custom motorcycles with the Doobie Brothers rock band, where he met his good friend drummer Keith Knudsen. "Keith Knudsen was my best friend," said Randy, "and each year we'd take several road trips on our motorcycles along with Jeff Mills that we called our Mancations."
Sadly, Keith lost a long battle to a debilitating illness in 2005. After Keith's death, Jeff Mills (who currently hosts Men's World Radio on Sonoma's KSVY 91.3 FM or streaming at http://www.ksvy.org) called Randy insisting that some form of Mancation continue to honor Keith's memory. "The idea of road trips on bikes without Keith was too painful," Randy explained. "But men water skiing on the Colorado River, eating like kings and running around the Arizona desert shooting crazy-ass weapons sounded about right, so ManCation Nation was born. The bottom line is that we want to peg your fun meter."
Fun, manly fun, is the whole idea behind ManCation Nation. The Colorado River and nearby Lake Havasu area offer some of the finest Bass Fishing in the West and ManCation Nation will provide the best local guides. Golf is available at a nearby Four-Star Golf Course. There is para-sailing, sky-skiing and vintage airplane rides over the desert. Early morning paddle board excursions down the river provide quiet beauty, or you can partake in the heart-pumping thrill of off-roading across the desert at 100 miles per hour with the Parker 4 Wheelers or using Rock Crawlers (sort of jeeps on steroids) to head straight up dizzying boulder mountains. If you dream of doing it, ManCation Nation can make it happen.
ManCation Nation holds itself to a very high standard of enjoyment, safety and health. ManCation Nation will help you experience activities that are sure to instill a sense of self-confidence, but just as important is your health. ManCation Nation's private chef will feed you only the finest of foods, the freshest of vegetables and the sweetest fruit. You'll have grass-fed Texas beef, organic poultry and the freshest sea food they can find. ManCation Nation guarantees that you will go home in better shape than when you arrived.
Randy Goodman insists that ManCation Nation is more than just fun. "It's about a bunch of guys getting together and spending a week or so having the most fun of their lives: bonding like brothers. I see it as a way of making men's lives better. It's a place to get advice and create a membership of men helping men, instilling self-confidence and having one hell of a good time."
ManCation Nation Vacations start at about $600 per person per day and can accommodate groups up to ten with a four day minimum. Fees include food, lodging, instruction and use of all equipment including boats, water toys, off-road vehicles, weaponry and green fees. Travel to Parker is not included.
For more detailed information about all aspects of ManCation Nation please visit their website at http://www.mancationnation.com. Be sure to see their exhilarating video on YouTube at http://www.youtube.com/user/ManCationNation.
Media Contacts:
Michael Coats (707) 935-6203 or michael(at)coatspr(dot)com
Lance Cutler (707) 996-5980 or lance(at)winepatrol(dot)com
###