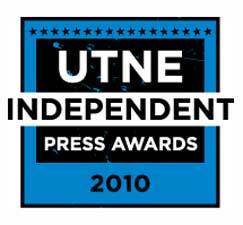 It's clear that today's best journalists and writers, who just a few years ago were working for daily newspapers or metropolitan weeklies, are finding a home for their best work in smaller, independent and alternative magazines
Boston, MA (Vocus) April 26, 2010
Utne Reader, the best of the alternative press, last night presented Boston Review with an Utne Independent Press Award for best writing. Utne Reader announced the awards during the Magazine Publishers of America-Independent Magazine Advisory Group (IMAG) conference at the Mandarin Oriental Hotel in Washington, D.C.
Boston Review is a bimonthly, nonpartisan magazine of ideas that is committed to equality and reason. Utne editors chose Boston Review based on its rigorous essays, incisive reviews and cultural analysis. This year, the magazine's foray into investigative reporting was especially engaging.
The Utne Independent Press Awards recognize the excellence and vitality of alternative and independent publishing. Utne Reader Editor in Chief David Schimke believes that independent journalists have raised the bar despite the current state of mainstream media.
"It's clear that today's best journalists and writers, who just a few years ago were working for daily newspapers or metropolitan weeklies, are finding a home for their best work in smaller, independent and alternative magazines," Schimke says. "The quality of this year's nominees is both a tribute to and a direct reflection of that phenomenon."
Utne Reader's editors select nominee publications through an extensive reading process and yearlong examination, rather than via a competition with entry forms and fees. In this way, the magazine honors the efforts of small, sometimes unnoticed publications that provide innovative, thought-provoking perspectives often ignored or overlooked by mass media.
The awards were presented at a dinner attended by publishers and editors from the independent press.
For more information on the awards presentation, go to http://www.Utne.com/UIPA2010. Samples of work from the winners will run in the July-August issue of Utne Reader, on newsstands June 22.
About Utne Reader
Since 1984, Utne Reader has been the vanguard of the alternative press, celebrating independent news and views from across the political spectrum. With ideas, trends and solutions you won't see in the mainstream media for months or even years, Utne Reader is the publication to read first for readers who want to know what's happening next.
About Ogden Publications Inc.
Ogden Publications Inc. is the leading information resource serving the sustainable living, rural lifestyle, farm memorabilia and classic motorcycle communities. Key brands include Mother Earth News, Natural Home, Utne Reader, Capper's and Grit. Ogden Publications also provides insurance and financial services through its Capper's Insurance Service division.
NOTE: Event photos and cover images for all winners are available upon request.
# # #