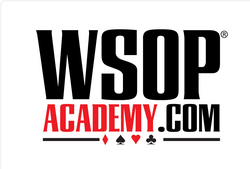 As the exclusive provider poker training for World Series of Poker we are excited to offer a diverse line-up of seminars and hands-on training that will help accelerate the play of poker players of all skill levels.
Las Vegas, NV (PRWEB) April 25, 2010
For the first time since its inception in 2007, the World Series of Poker Academy will be holding a wide range of events at the Rio All-Suites Hotel and Casino to coincide with the 2010 World Series of Poker.
The WSOP Academy will be hosting a series of events starting with a 2-day Tournament Academy May 28-29 with double bracelet winner Mark Seif, poker tells expert Joe Navarro, Ali Nejad, Shawn Rice and more. This event is designed to get you deep in the many preliminary events that you will see at the Rio this summer. Next, there is an Alumni Only Hand Analysis Academy on May 30, 2010 which involves 100% instruction taking place at the poker tables and is intended to continue the learning from the Tournament Academy.
The Rio schedule also includes an all new one-day Ladies Only Academy on June 10, followed by a Ladies Only Hand Analysis Academy on June 11. WSOP bracelet winner and this year's NBC Head's Up champion, Annie Duke will lead instruction for both Ladies Only Academies. "I'm really proud of the fact that we have graduates from the Academy who have not only won tournaments, but also hundreds of thousands of dollars in tournament and cash prizes", says Duke. "And I love teaching the Ladies event, where we get to discuss winning strategies ideally suited to women, in a non-threatening environment."
For the first time ever there will be a Mind and Body Academy entirely dedicated to two of the most critical, yet underappreciated aspects of being a successful poker player; Mind & Body. Poker tells expert Joe Navarro and poker mindset coach Sam Chauhan will host this one day Academy with interactive seminars, video analysis and hands on observational techniques. Together Navarro and Chauhan will help participants master the components of playing world class poker that go beyond the cards and the math.
"Past seminars led by Joe Navarro, a former FBI interrogator and author, have been some of the most popular and rewarding for our attendees", says Brandon Rosen, president of the WSOP Academy. "Our alumni tell all the time to tell us that Joe's approach to reading their opponents' non-verbal communications has made them thousands of dollars in poker winnings."
Sam Chauhan is a world-renowned mindset coach to poker players such as Phil Hellmuth, Antonio Esfandiari, Gavin Smith, Paul Wasicka and author of the bestselling book Mind's Power Unleashed. "We are equally as excited about having Sam present winning Mindset Techniques as he has a proven track record of revitalizing the play of some of the world's finest poker players and he has worked with them to help bring the greatest success that they have had in years"
For the cash game enthusiast, the WSOP Academy will be holding its Cash Game Academy at Caesars Palace on June 19-20. On hand to do the instruction will be Greg Raymer, Ali Nejad, Shawn Rice and Mark Kroon. They will be addressing topics such as the transition from tournament play to cash game play, bankroll management and sophisticated plays and strategies specific to cash game play.
Finally, the WSOP Academy signature annual Main Event Primer takes place July 2-4, just before the start of the main event. This event will prepare participants for the rigours of big tournament poker. The curriculum, developed by WSOP champions like Greg Raymer, Annie Duke and Phil Hellmuth, is taught through winning strategy lectures with open question and answer periods, video hand analysis of ESPN World Series coverage, live hand analysis with bracelet winners assessing your play, and private multi-table tournaments, to put your learning into practice.
"As the exclusive provider poker training for World Series of Poker we are excited to offer a diverse line-up of seminars and hands-on training that will help accelerate the play of poker players of all skill levels" says Rosen.
The cost of World Series Poker Academies range from $899 for single-day events, to $2899 for the Main Event Primer, and space is limited. Registration fees include participation in seminars, materials, breakfast and lunch, and entrance into private cash game competitions or multi-table tournaments where players have a shot at winning a seat into our Tournament of Champions (if applicable). Check for special early-bird pricing because seats do fill-up quickly. Call today to reserve your spot. For more information or to register visit http://www.wsopacademy.com or call 1.800.989.9767.
The World Series of Academy , is the exclusive provider of live poker training offered under the banner of the most prestigious set of poker tournaments in the world, the World Series of Poker. The World Series of poker delivers a ground-breaking series of instructional programs featuring instruction from the best players in the game. From sessions that focus on No-Limit Texas Hold'em to special events like the Mind & Body Academy, the WSOP Academy offers poker players of all skill levels the once-in-a-lifetime opportunity to learn directly from the champions of the game to become champions themselves.
###