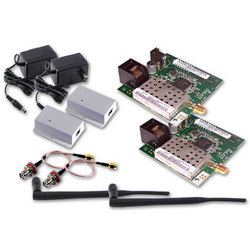 Expanding into the embedded systems market with a number of robust and reliable wireless modules will compliment AvaLAN's already successful position as a leader in industrial radio technology, said Matt Nelson, CEO of AvaLAN Wireless
Huntsville, AL (PRWEB) April 26, 2010
AvaLAN Wireless Systems, Inc., providers of outdoor long range industrial wireless Ethernet products, announced this week their entry into the embedded systems market. With over six years of industrial wireless technology development experience and over 30,000 radios shipped to date, AvaLAN has decided to expand into the embedded systems market by offering a number of radio modules designed for easy and rapid integration into industrial devices needing robust and reliable network connectivity. This week at the premier industry-leading 2010 Embedded Systems Conference in Silicon Valley, AvaLAN Wireless Systems, Inc. will be demonstrating their new line of 900 MHz and 2.4GHz radio modules with Ethernet, RS232/485 Serial and Serial Peripheral Interface (SPI) connectivity. Each AvaLAN radio module product has an evaluation kit available so developers can quickly evaluate the functionality and easily design the technology into their products.
AvaLAN is continuing their market leadership position in providing robust and reliable wireless solutions for security applications, access control, industrial automation, smart grid, remote sensing and remote control markets. No other company can match the price-performance characteristics of AvaLAN's products. AvaLAN's new products are an ideal replacement for installations where Wi-Fi systems are under-performing or failing completely due to insufficient range, excessive interference or unsatisfactory reliability.
Live demonstrations of the new AvaLAN product will be held at the upcoming 2010 Embedded Systems Conference in Silicon Valley, AvaLAN's Booth# 1922, April 24-26, 2010.
About AvaLAN Wireless Systems, Inc.
Founded in the heart of California's high-tech Silicon Valley in 2004, AvaLAN Wireless ("AvaLAN") is an industry leading developer and manufacturer of long range industrial wireless radio technology. AvaLAN's products are designed to enable affordable wireless connections in perimeter or remote locations. Specializing in the unlicensed 900MHz, 2.4GHz and 5.8GHz radio spectra, AvaLAN offers a number of Ethernet bridge products and point to multi point wireless networking products. In 2009, AvaLAN encapsulated their technology into an easy to integrate radio module and is now developing OEM partners in addition to our distribution, dealer, and system integrator channels. AvaLAN in 2010 will continue to expand a line of robust and reliable wireless products with new modules for easy integration and further expansion of solutions for smart city applications.
AvaLAN Wireless Systems, Inc. is headquartered near Huntsville, Alabama and can be contacted at 866-533-6216, by email at info(at)avalanwireless(dot)com, or by visiting http://www.avalanwireless.com.
© 2010 by AvaLAN Wireless Systems Incorporated. All rights reserved. AvaLAN Wireless and the AvaLAN Wireless logo are registered trademarks of AvaLAN Wireless Systems Incorporated. All other trademarks are property of their respective owners.
###