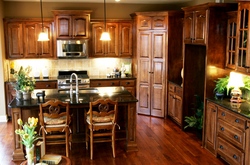 The extended tax credit has created the opportunity for a family purchasing a home for the second or third time to get the home of their dreams, not just the first-time buyer."
Lenexa, KS (PRWEB) April 23, 2010
Rodrock Homes (http://www.RodrockHomes.com) realizes some people enjoy a certain excitement about not shopping for the holidays until the last few days, or remembering that special birthday or anniversary until on the way home from work. However, the April 30th cutoff to purchase a new home to take advantage of the Federal Housing Tax Credits and matching amount from Rodrock Homes is a deadline not to be missed. In order to qualify the home must be ready to close by June 30th of this year. The only exception to the closing date is special circumstances for members in the military, foreign service, or intelligence communities.
Brian Rodrock, president of Rodrock Homes, is pleasantly surprised the impact the matching program has generated through the company. Sales of homes in the entry level price point have been brisk as hoped for, but the repeat buyer has attracted Rodrock's attention this time. "The extended tax credit has created the opportunity for a family purchasing a home for the second or third time to get the home of their dreams, not just the first-time buyer."
With the match from Rodrock Homes, qualified home buyers have up to $16,000 and current homeowners have $13,000 to use for their new home purchase. Homebuyers have the freedom to design how the matching funds are used. They could choose from many possible upgrades to personalize their home such as finishing the basement, media room, or other decorating possibilities. Another option would be to use the matching amount to cover closing costs, buy down the already low interest rates, or just lower their monthly payment.
The approaching deadline and increased sales volume has put pressure on Johnson County's largest builder to deliver their homes on time. That does not seem to worry the company's president. "Our sub-contractors are some of the best in the area. They will do what is needed to deliver that home on time," said Rodrock.
Rodrock Homes is a single family residential builder based in Lenexa, Kansas. The company is currently building homes throughout Johnson County, Kansas. For more information contact Brian Rodrock, Rodrock Homes, LLC. (913) 851-0347, brodrock at rodrockhomes dot com.
###