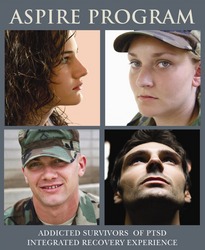 The need for programs to treat PTSD has never been as imperative as it is now, as the number of service members impacted by combat trauma is increasing daily.
Navarre, FL (PRWEB) April 26, 2010
Twelve Oaks Alcohol and Drug Treatment Center has introduced a new track for those, particularly U.S. service members, dealing with post traumatic stress disorder, or PTSD. The track, called "ASPIRE" for Addicted Survivors of PTSD Integrated Recovery Experience, will help the military and civilians alike obtain relief from the dual impact of substance abuse and traumatic experiences.
"The symptoms of PTSD and substance abuse play off one another," says B. Diane Vchulek, MS, MA, LMHC, NCC, BCETS, who created the program. "A soldier's hidden injuries of psychological pain and distress and emotions such as fear, rage, and hopelessness can be so significant that the soldier turns to substances as a coping strategy to help decrease the psychological and emotional pain."
Vchulek continues: "We have found that the most effective and efficient treatment is obtained through an integrative and comprehensive program that treats both substance abuse and PTSD issues simultaneously."
Located in Navarre, Florida, Twelve Oaks is a 102-bed residential addiction treatment facility for adults and adolescents. The five-acre, beach-bordering campus provides an ideal, serene setting for treatment.
Vchulek, a Licensed Mental Health Counselor with over 25 years of experience, supervises all aspects of the PTSD program and works directly with the patients in groups and individual sessions, through psycho-education and intensive psychotherapy, to address the co-occurring issues of trauma and addictions.
"The need for programs to treat PTSD has never been as imperative as it is now, as the number of service members impacted by combat trauma is increasing daily," she says. "Military leaders are recognizing that combat can damage psychological, emotional and cognitive aspects of the service member and their family's wellness."
Guidelines for treating trauma, both civilian and military, from the International Society for Traumatic Stress Studies (ISTSS), the International Society for the Study of Trauma and Dissociation (ISSTD), and the Veteran's Administration (VA) are integrated into the core therapeutic components of the treatment process.
"The objective for the client is for them to gain the skills and understanding that will enable them to process and manage the triggers of both PTSD and substance abuse effectively and consistently," says Vchulek. "By dealing with the core issues, interventions for both can result in better outcomes."
Four-Star General Barry McCaffrey (Ret), former U.S. National Drug Policy Director and a senior advisor to CRC Health Group, parent company of Twelve Oaks, adds, "Twelve Oaks and CRC Health Group provide the kind of expert treatment and rehabilitation that unfortunately some servicemen and servicewomen may require for PTSD and substance abuse after the harsh rigors of battle experience. It is wonderful that they can receive this help at Twelve Oaks."
For more than 25 years, Twelve Oaks has helped adults and teens suffering from drug dependency, addiction, PTSD and chronic pain. Licensed by the Florida Department of Children and Families and accredited by the Commission on Accreditation of Rehabilitation Facilities, Twelve Oaks provides a uniquely serene environment in which clients can begin the recovery process under the care and guidance of dedicated and experienced professionals. For more information, visit http://www.twelveoaksrecovery.com or call (800) 622-1255.
Twelve Oaks Alcohol and Drug Treatment Center is a member of CRC Health Group, the most comprehensive network of specialized behavioral care services in the nation. CRC offers the largest array of personalized treatment options, allowing individuals, families and professionals to choose the most appropriate treatment setting for their behavioral, addiction, weight management and therapeutic education needs. CRC is committed to making its services widely and easily available, while maintaining a passion for delivering advanced treatment. For over three decades, CRC programs have helped individuals and families reclaim and enrich their lives.
###