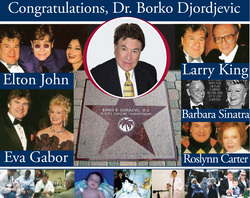 His innovative approach has been paramount in helping the Society for Diseases stay at the forefront of this emerging field.
New York, NY (Vocus) April 26, 2010
Dr. Borko Djordjevic, distinguished physician and international philanthropist, has been awarded the Ellis Island Medal of Honor for his medical leadership and devotion to peace efforts between Bosnia and Yugoslavia, his native land. Dr. Djordjevic, along with other recipients from various heritage groups chosen by the National Ethnic Coalition of Organizations (NECO), will be honored on Saturday, May 8, 2010 in a prestigious 2-day award ceremony commemorating those who have made enduring contributions to our nation and to the world.
Every year, NECO awards the Ellis Island Medal of Honor to 100 outstanding individuals who lead a lifestyle dedicated to community service, exhibit interests for the preservation of cultural groups and who share and contribute through personal and professional achievements toward the overall benefit of society. The patriotic event begins with an elegant and festive Pre-Celebration Reception where all Medalists meet one another. The following afternoon, recipients travel by ferry to Ellis Island for the inclusive Awards Ceremony, complete with a Gala Dinner in the beautifully restored Great Hall and a stunning fireworks display presented by the Grucci family.
"Dr. Djordjevic not only provides expert surgical care with techniques honed to perfection, he lends extensive leadership to the field of stem cell research," says Stemedica International. "His innovative approach has been paramount in helping the Society for Diseases stay at the forefront of this emerging field."
Dr. Djordjevic believes in understanding and appreciating every layer of humanity. "I believe that beauty is measured in millimeters, which encompasses your ancestors, your mindset, your health and your future," says Djordjevic.
In 1988, Dr. Djordjevic revisited his native Yugoslavia to give something back to the country that educated him and his people. In what he describes as a "soul-cleansing" experience, he started a clinic, taught plastic surgery in Belgrade, repaired trauma patients from the Croatia-Serbia war, and helped Bosnian children and war victims throughout the years. Operating under the most primitive conditions, his touch became even more sensitive and precise. Working in a crisis atmosphere, with much at stake, his dexterity and ingenuity were stretched to the limit, which enabled him to shorten the recovery period for his patients by accomplishing tasks quickly.
After returning to Palm Springs, CA where he currently resides when not in Belgrade, he was honored with a star on Palm Canyon Drive for humanitarianism by the City of Palm Springs for his work in plastic surgery in his mother country; his volunteer efforts during the Bosnian conflict; and his time, energy, and resources that help support Palm Springs Youth Charities and the Children's Return a Smile Foundation.
Dr. Djordjevic has authored countless medical publications and been appointed to numerous medical and surgical positions, including a Special Appointment by former President Jimmy Carter to assist the Carter Center of Atlanta, Georgia, in their efforts to further peace in the Bosnian-Yugoslavian countries. He was solely responsible for bringing President Carter personally to Bosnia in December 1994 to further the peace efforts.
In addition to his ongoing medical education, numerous memberships and fellowships, Dr. Djordjevic currently serves as:

Director and Chairman, Department of Plastic and Reconstructive Surgery Mediterranean Surgery Center, Igalo, Montenegro
Contributing Editor, Journal of Medical Research University of Belgrade, Serbia
Associate Professor, Plastic and Reconstructive Surgery University of Belgrade, School of Medicine, Belgrade, Serbia
Member Investigator Western Institutional Review Board (WIRB) Study: Adjunct Study of Mentor H/S Silicone Gel-filled Mammary Prosthesis
By being awarded the prestigious Ellis Island Medal of Honor, Dr. Djordjevic will join the honored ranks of several other Serbian recipients including Mira Zivkovich, Vlado Divac, Obren Brian Gerich and Lana Todorovich, along with former American presidents Bill Clinton, George Bush, Ronald Reagan, Jimmy Carter, and Gerald Ford and famed and philanthropic individuals such as Frank Sinatra, Muhammad Ali, Rosa Parks, Elie Wiesel, General Norman Schwarzkopf, Mickey Mantle, Gloria Estefan, Donald Trump, Lee Iacocca, and Barbara Walters.
###