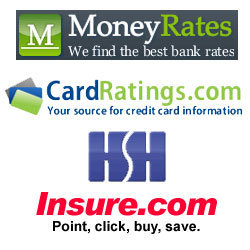 The more you understand personal finance, the more likely you are to make successful choices when it comes to managing your money.
Little Rock, AR (PRWEB) April 28, 2010
Four leading finance websites -- CardRatings.com, MoneyRates.com, HSH.com and Insure.com -- have joined forces to promote the increasing importance of consumer financial literacy. Together, the sites are honoring Financial Literacy Month by hosting a four-article roundtable to provide consumers with practical, expert-driven financial and investment advice.
This collaboration comes at a time when consumers are repeatedly testifying to their own lack of financial knowledge. In 2009, a survey conducted on behalf of the National Foundation for Credit Counseling, Inc. revealed that 41 percent of American adults gave their own personal finance knowledge a grade of C, D, or F. The same survey reported that nearly one-third of adults had no savings.
"The more you understand personal finance, the more likely you are to make successful choices when it comes to managing your money," said Beverly Harzog, credit card expert and CardRatings.com spokesperson. "The better choices you make, the more likely you are to stay out of debt and save for retirement."
Economic recession has brought the issue of financial stability to the forefront. According to the American Bankruptcy Institute, an estimated 1.4 million Americans filed for bankruptcy in 2009, up from 1.1 million the year before. And with record debt and foreclosures looming, it has become crucial that consumers understand how banking and investment products work before signing on the dotted line.
"When it comes to investing, knowledge really is power,"said Richard Barrington, investment expert and spokesperson for MoneyRates.com. "Informed shoppers for bank products will do a better job of protecting their interests and finding better bank rates, and should find themselves wealthier in the long run as a result."
One of the primary lessons behind Financial Literacy Month is that smart shoppers save money and build wealth. Although the housing market has made these difficult, savvy shoppers can still benefit.
"Getting a great deal on your mortgage requires you to know both what you want and when it's a good time to act," Keith Gumbinger, Vice President of leading mortgage site HSH.com said. "Understanding how and why mortgage rates move can help you know when to jump into the market, when to lock in your interest rate or when to hold off on your transaction. It's essential knowledge that any homeowner or homebuyer needs in today's market."
Some experts believe the same goes for insurance products, which in recent years have grown in popularity as long-term financial investments.
"It's important for life insurance shoppers to understand the language of underwriters -- especially if you have a health condition," said Amy Danise, Senior Managing Editor of Insure.com. "Knowing the process and terminology behind your life insurance quotes can make you a smarter shopper."
The Financial Literacy Month Roundtable guides can be found at the CardRatings.com:

CardRatings.com has been educating consumers about credit cards since 1998 and has been featured by hundreds of media outlets, including The Wall Street Journal, Good Morning America, The New York Times, and The Today Show. Thanks to consumers, CardRatings.com has become the most comprehensive free source for comparing credit card offers and has helped over a million people find the best credit cards for their individual needs
For more information, please contact:
Jessica Austin
650.578.6880
jessica(at)cardratings(dot)com
###