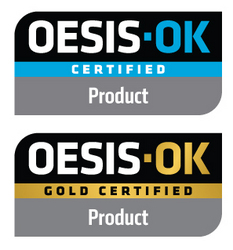 OESIS OK has secured its position as the best way to ensure interoperability prior to a release hitting the market and potentially disrupting endpoint customers.
San Francisco, Calif. (PRWEB) April 27, 2010
OPSWAT, Inc., the leading provider of development tools that power software application manageability, today announced that as of the end of the first quarter of 2010 the OESIS OK Interoperability Certification Program— which verifies that security applications will operate with market-leading technology solutions—has surpassed a major milestone. After expanding its certification to three distinct levels—Identified, Certified and Gold Certified—last year, the program has received more than 100 additional applications for testing.
End users, developers and technology vendors can now easily use the OESIS OK badge system to discover exactly which applications are compatible with which technology solutions. Certified applications are interoperable with these solutions, whereas Gold Certified products have a considerably longer list. OESIS OK Identified level products have a limited support list available here.
This latest announcement comes as OESIS OK has recently completed testing and certification for applications from Avira GmbH, Sunbelt Software, AhnLab and Quick Heal Technologies.
Additionally, in recent months OESIS OK has increased its membership to 40 participants. The first quarter of 2010 saw a rise in representation from the Asian market, with AhnLab, Kingsoft and Antiy (as well as Scandinavian company Lavasoft) joining the program. This follows the announcement that H3C, a subsidiary of 3Com in China officially sponsored the program.
"We are pleased at the response that OESIS OK has received in the international marketplace," said Benny Czarny, CEO at OPSWAT. "OESIS is an industry standard and it follows that integration and certification through the OESIS OK Program would be widely accepted.
All major security application providers have dealt with compatibility issues—especially after a issuing a new or updated product—and OESIS OK has secured its position as the best way to ensure interoperability prior to a release hitting the market and potentially disrupting endpoint customers."
To assist developers in determining their own potential certification level for specific applications, OPSWAT created "Am I OESIS OK?," a free utility that can be used to diagnose/troubleshoot compatibility issues and instantly detects a security application's interoperability level with third-party products. This application can be freely downloaded on the program's homepage.
OESIS OK certifies applications for manageability within the OESIS Framework. OESIS provides an industry standard for endpoint security application compliance and manageability. In order to earn OESIS OK certification, a security application is tested against a variety of criteria including an installation test, rogue application test and OESIS local detection test. Security applications with the OESIS OK logo are also regularly tested to ensure proper functionality is ongoing.
About OPSWAT
Founded in 2002, OPSWAT provides software engineers and IT pros with development tools and data services to power manageability and security solutions. OPSWAT, Inc. created OESIS OK, an industry-wide certification program that verifies the interoperability of endpoint security applications with products from market-leading technology vendors. The free Am I OESIS OK? utility hosted at http://www.oesisok.com/ enables end users to assess the interoperability and quality level of their applications.
###