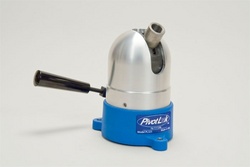 Having a PivotLok is like having a couple of extra helping hands to do the job right … only better
Vista, CA (PRWEB) April 26, 2010
PivotLok, a company specializing in the design and manufacturing of professional bench or pedestal mounted work positioner, called a PivotLok (named after its parent company), launches a new website to help solve the puzzle of working ergonomics and reduce on-the-job injuries. The Pivotlok makes hand work easier by getting a workpiece in just the right position to get the job done right. Used by Boeing, Harley-Davidson, Polaris and many other companies, the PivotLok work positioner brings the work to the users' hands. The PivotLok enables the user to easily mount and position a workpiece anywhere within a hemisphere with unlimited rotation.
The PivotLok facilitates hand tasks that normally require multiple positioning fixtures by securing the workpiece in place quickly and easily, shifting the user's focus from keeping the piece down to the actual work that needs to be done such as welding, soldering, or polishing. In addition, it is no surprise that PivotLok Inc. uses the PivotLok to assemble its own products.
According to a study from the CDC (Center for Disease Control), younger people, having suffered 7.9 million work injuries between 1998 and 2007, are more likely to experience work injuries, highly possible due to lack of experience. The CDC recommends that employers make changes to the working environment to make it a safer place to work. The PivotLok has been designed with that goal in mind - help reduce or eliminate on-the-job injuries by making its ball vise and work positioners secure and easy to use.
Other work positioners and ball vises make hand assembly more difficult by requiring the user to re-tighten a screw or to supply compressed air for pneumatic operation. With most work positioners, users consciously act to re-tighten the tension. Unhindered by the limitations other work positioners present, PivotLok users simply depress a lever to the desired position and release the lever to lock it in place, making their job both easier AND safer while improving productivity.
A key feature of the PivotLok is its easy adaptability to custom tooling and fixturing. A standard one inch diameter keyed socket in the pivot ball enables the user to easily mount his or her custom fixture. With ease of use driving its design and engineering, the PivotLok makes hand assembly in custom applications a lot more comfortable, convenient and safe.
"The PivotLok is a very real and functional tool that solves problems relating to working ergonomics, specifically the issue of finding the best way to do a job more productively, efficiently, and safely to reduce injuries on the job that can cost American manufacturers billions of dollars a year. Having a PivotLok is like having a couple of extra helping hands to do the job right … only better" says Jim West, President of PivotLok Inc.
About PivotLok Inc.
Through innovative design, prototyping and manufacturing, PivotLok creates ergonomic work positioners and accessories that enhance work efficiency. The company's plans to develop new product lines include different size positioners as well as a broad line of tooling and fixturing add-ons. PivotLok Inc.'s current products include the PivotLok work positioner, threaded and flange adapters as well as other attachments. Learn how the PivotLok makes hand tasks easier and safer while reducing on-the-job injuries: visit http://www.pivotlok.com or call 800-656-5642.
The original release can be found here.
###