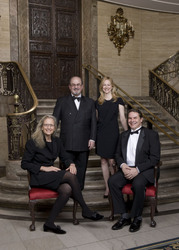 The 2010 Common Wealth Award winners are bold leaders, gifted artists and imaginative thinkers
Wilmington, Del. (PRWEB) April 24, 2010
Four renowned leaders and achievers who have made important contributions to the arts and public service tonight receive The Common Wealth Awards of Distinguished Service in recognition of their work. These prestigious international awards honor individuals who have enriched the world community through their exceptional lifetime accomplishments.
The 2010 Common Wealth Award honorees are:

Annie Leibovitz, famed photographer and celebrity portraitist, for Mass Communications;
Laura Linney, award-winning actress of Broadway, film and television, for Dramatic Arts;
Greg Mortenson, renowned humanitarian; co-founder of Central Asia Institute and founder of Pennies for Peace, for Public Service;
Sir Salman Rushdie, preeminent Indian-British writer and powerful literary voice, for Literature.
The honorees will be recognized at the Common Wealth Awards ceremony hosted by The PNC Financial Services Group tonight at the Hotel du Pont in Wilmington.
The Common Wealth Awards of Distinguished Service were first presented in 1979 by The Ralph Hayes Common Wealth Foundation. PNC serves as trustee and administrator of the foundation, which was created under the will of the late Ralph Hayes, an influential business executive and philanthropist.
A total of $4.8 million in prize money has been conferred to 173 honorees during the 31-year history of the Common Wealth Awards. The awards are funded by The Ralph Hayes Common Wealth Foundation, with the honorees receiving a shared prize of $200,000 during the ceremony.
"The 2010 Common Wealth Award winners are bold leaders, gifted artists and imaginative thinkers," said Connie Bond Stuart, PNC regional president. "Through their professional and personal endeavors, they have produced work of substantial influence and enduring relevance. In the spirit of the Common Wealth Awards, we applaud these high achievers for their outstanding accomplishments and look ahead with assurance to their continued contributions."
Ralph Hayes, creator of the Common Wealth Awards, served on the board of directors of PNC Delaware's predecessor banks from 1935 to 1965. Through the awards, he sought to recognize outstanding achievement in eight disciplines: dramatic arts, literature, science, invention, mass communications, public service, government, and sociology. The awards are also an incentive for individuals to make future contributions to the world community.
The roster of past Common Wealth Award recipients reveals the caliber of talent and the global scope of the honorees and their achievements. Among the past winners are 11 Nobel laureates, including human rights leader Archbishop Desmond Tutu, former statesman Henry Kissinger and authors Gabriel Garcia Marquez and Toni Morrison. Other Common Wealth Award winners include former Secretary of State Colin Powell; children's television icon, the late Fred Rogers; H.M. Queen Noor of Jordan; dance legend Mikhail Baryshnikov; Hollywood icons Sidney Poitier and Meryl Streep; astronaut Buzz Aldrin; primatologist Jane Goodall; ocean explorer Robert Ballard; television journalists Walter Cronkite and Cokie Roberts; and World Wide Web inventor Tim Berners-Lee.
The PNC Financial Services Group, Inc. ("PNC") provides investment and wealth management, fiduciary services, FDIC-insured banking products and services and lending and borrowing of funds through its subsidiary, PNC Bank, National Association, which is a Member FDIC, and provides, certain fiduciary and agency services through PNC Delaware Trust Company. PNC does not provide legal, tax or accounting advice.
Investments: Not FDIC Insured. No Bank or Federal Government Guarantee. May Lose Value.
# # #