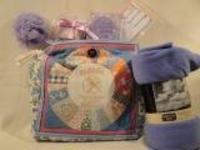 The bags are handcrafted with equal measure of form, style, color coordination, and functionality, giving each bag its own personality
Guilford, CT (Vocus) April 26, 2010
Common Thread Vintage Designs™ unique and one-of-a-kind vintage feedsack and antique quilt bags make terrific gifts and they are being offered direct on the web for the first-time for Mother's Day 2010.
The Common Thread Vintage Designs™ line is comprised of four collections—each named for an American woman representing an era in history, and each design hand-crafted from vintage fabrics and materials from that same period.
"The bags are handcrafted with equal measure of form, style, color coordination, and functionality, giving each bag its own personality," said Common Thread Vintage designer, Patti Biller. "There are also so many ways to use these bags, and this also provides some great ideas for putting together a very meaningful and memorable gift bag set for your wife, mother, daughter and not just for Mother's Day, but for any occasion, season or reason."
The commonthreadvintage.com web store offers a complete list of suggestions on how to pick the right bag and then fill it with fun and readily available items to turn it into a truly customized special gift.
Here are five ideas from the commonthreadvintage.com web site based on bags that are available to purchase from the Florrie, Dottie, Lizzie or Annie Collections:
Cutting Edge Crafter's Bag: Fill this bag with colorful yarn, wooden knitting needles, a craft book, crimping scissors, scrapbooking items, or supplies for whatever your favorite crafter likes to do!
Steeped in Tradition Tea Lovers Bag: Combine colorful boxes of tea, a tea infuser, lovely cup and saucer and a box or two of biscotti and you have the perfect gift for the tea fans in your life!
Breakfast Epiphany Bag: If the first meal of the day is her favorite, combine some yummy breakfast items: pancake mix, flavored syrup, gourmet coffee, homemade muffins, a mug and plate and small recipe book.
The Players Club Game Bag: Whatever her game, from Bingo, to mahjong to bridge, this bag can be the perfect tote for all of her supplies, with plenty of room for the all important mid-game snack!
Business Unusual Working Girl's Bag: Who says you have to fit it all in a briefcase…your favorite working woman will appreciate the is collection of legal pads, post-it notes, pens, a planner and coffee mug, whether her office is in or outside of the home.
Each of these original designs and dozens of others, can be seen and ordered on the web site, and for a limited time using the coupon code: SPECIALGIFT-25, buyers will save $25 on every order placed online.
Biller, a Connecticut mother of four grown children has taken her passion for vintage fashion to the next level with Common Thread Vintage Designs™. Patti is constantly scouring the web as well as flea markets and antique shows for the perfect quilt remnants, feed sacks, antique buttons and other elements to incorporate into her line of handcrafted pieces.
The company is privately-held and has retained Atlanta-based social media marketing creative agency Creative Word and Image Inc. to develop its brand and market the line to retail buyers until the line is introduced formally through the gift and apparel industry for Fall 2010 fashion release.
###