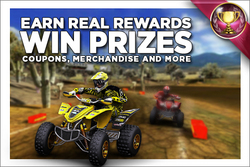 Real Rewards is revolutionizing in-game advertising.
Chandler, AZ (PRWEB) April 26, 2010
BlackBox Interactive, the leader in consumer engagement within the video game environment, released Real Rewards in 2XL Games' ATV Offroad Lite, presented by World of Powersports. The Real Rewards platform allows for the distribution of preference, geography and demographic-based real-world coupons and products.
Participation in the Real Rewards program is available to advertisers and game developers. Offering a 1:1 connection between companies and consumers, Real Rewards are distributed through iPhone applications based on defined achievements. Real Rewards are transactionable through barcoded coupons scannable through the iPhone at point of sale, or through online transactions. Product, such as energy drinks, bikes, apparel, etc. are also made available to players through the Real Rewards platform.
"Real Rewards is revolutionizing in-game advertising," said Richard Cassey, President of BlackBox Interactive. "Where measurement of advetising impressions was once a means to an end, instead advertisers can now measure distribution of offers, redemption and revenue directly associated with their advertising investment."
Game developers have access to Real Rewards as well by licensing BlackBox Interactive's software development kit. Developers can then apply the Real Rewards icon to games that they develop, adding those games to the Real Rewards network. By utilizing Real Rewards, developers will realize the following results: (1) longevity of game play resulting in games staying relevant longer; (2) ability to monetize games for creating additional revenue; and (3) engagement with consumers by enhancing their play experience rather than interrupting it.
"We believe that BlackBox Interactive's Real Rewards SDK is revolutionary for games," said Rick Baltman, President of 2XL Games. "By providing a continuous stream of new prizes to give away, money saving coupons to hand out, along with events and promotions to compete in, players are not only highly motivated to finish in first place, but they will want to keep playing to see what they can win next! This truly adds longevity to our games."
About BlackBox Interactive:
BlackBox Interactive is the leader in video game player engagement, providing the only seamless integration of in-game promotions and preference-based real-world transactions, resulting in a 1:1 relationship between companies' products and players.
###