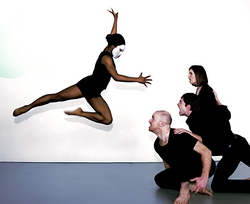 Los Angeles, CA (Vocus) April 27, 2010
The L.A. Contemporary Dance Company (LACDC) teams up with the a capella group Sonos in a double bill with BODYTRAFFIC to present "MADE IN L.A.", an evening of contemporary dance, theatre, and music highlighting the unique and dynamic visions of these young, vivacious companies of Los Angeles, on Friday, June 18, 2010, 8:30 p.m. at the Ford Amphitheatre. The performance marks the opening of the Ford's 2010 Dance Series, 17 events reflecting the strength and scope of dance in Los Angeles.
The program opens with the Ford Amphitheatre premiere of "Transfigured Night" presented by BODYTRAFFIC, choreographed by renowned Israeli choreographers Guy Weizman and Roni Haver, and performed to Arnold Schoenberg's "Verklarte Nacht." The second half offers the world premiere of "Gods and Marionettes" presented by LACDC, with co-direction and choreography by Kate Hutter, co-direction and text by David Bridel, and music composed by Christopher Harrison and performed live by SONOS a capella group.
The work of LACDC, SONOS and BODYTRAFFIC, with their large casts, engaging set pieces and the collaboration of multiple disciplines, is well suited for the singular features of the Ford Amphitheatre. The theatre's outdoor environment will enhance the choreography, staging, and interactivity of the performance. Together these elements create a captivating and visually intoxicating theatrical experience for audiences of all ages, grappling with potent stories of the human spirit and the will to survive.
LACDC and BODYTRAFFIC are committed to providing Los Angeles with today's most innovative dance productions performed by local artists at the top of their field. These companies are honored to extend their work to new audiences, as well as draw current fans to this exciting outdoor venue. Also, by sharing the program, LACDC with SONOS and BODYTRAFFIC will help unify the Los Angeles arts community and build stronger connections with audiences interested in multi-disciplinary performances.
The world premiere of "Gods and Marionettes," performed by LACDC and SONOS, fuses song, dance and theatre in a captivating and terrifying new take on Greek Tragedy. When atrocities befall a family and a nation, who is responsible – the men and women whose decisions lead to chaos? Or the Gods – mischievous, whimsical, and fatally equipped with power and authority? Telling a tale both ancient and modern, a tale of fatalism and freewill, "Gods and Marionettes" pits mortals and immortals against each other in a desperate battle for control of the world. The cast will include dancers, vocalists and an actor who guide the audience through the onstage experience adding surprising facts and "pop-ups" about the story in correlation to current events.
Critically acclaimed "Transfigured Night", presented by BODYTRAFFIC, premiered in 2009 at the Sinai Temple to a sold out crowd. Debra Levine, dance critic for the Los Angeles Times, noted that "confident professionalism was in evidence across every performance element – décor, costume, lighting, and in the super-contemporary choreography requiring robust modern dance technique." "Transfigured Night" is inspired by the book "The Sabbath" by Abraham Joshua Heschel which depicts various ways people transcend trying times by keeping the "in-between" moments in life sacred and striking a significant balance between work and rest. The piece is choreographed by Guy Weizman and Roni Haver, who are both Israeli choreographers living and working in the Netherlands. "Transfigured Night" is set to "Verklarte Nacht," Arnold Schoenberg's earliest important work. The set, designed by Ascon de Nijs, is made up of thirteen 12' light poles that change angles throughout the piece and depict crumbling architecture during World War II.
Tickets for "Made in L.A." are $25 general admission, purchased by June 11, $30 thereafter; $12 for full-time students with ID and children 12 and under; and $75 VIP tickets with reserved preferred seating and a pre-performance reception. Purchase three or more Ford Theatre events and pay only $20. For General Admission and VIP tickets, log on to http://www.FordTheatres.org or call the Ford Box Office at (323) 461-3673. For group tickets sales call (323) 769-2147; additional information and sponsorship opportunities call (310) 871-0621.
The Ford Amphitheatre is located at 2580 Cahuenga Blvd., East, Hollywood, CA 90068, just off the 101 Hollywood Freeway across from the Hollywood Bowl and south of Universal Studios. The grounds open two hours before showtime for picnicking. The Ford offers a number of dining options: a variety of food and beverages is available on site and box dinners for evening events may be ordered in advance. Patrons are welcome to bring their own food and drink. The Ford is disabled accessible. Portable wireless listening devices are available upon request.
On-site, stacked parking costs $5 per vehicle for evening. For evening amphitheatre performances only, there is FREE non-stacked parking serviced by a FREE shuttle to the Ford located at the Universal City Metro Station lot at Lankershim Blvd. and Campo de Cahuenga. The shuttle, which cycles every 15-20 minutes, stops in the "kiss and ride" area.
This event is part of the Ford Amphitheatre 2010 Season, a multi-disciplinary arts series produced by the Los Angeles County Arts Commission in cooperation with Los Angeles County-based arts organizations. For a complete season schedule, directions to the theater and parking information, log on to http://www.FordTheatres.org.
# # #