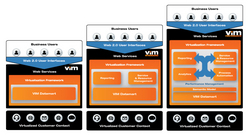 With VIM now available at multiple tiers of functionality, we can flexibly support a customer as their sophistication in the use of the iOD service and pursuit of customer contact productivity grows.
Boston, MA (PRWEB) April 29, 2010
Exony today announced the formal launch of a major expansion of their Virtualized Interaction Manager (VIM) product family, which will help improve company productivity, with VIM Standard and VIM Datamart. This builds upon the considerable success of VIM Performance and adds unique integration options with Cisco Unified Contact Center Enterprise and Hosted 8.0.
Exony VIM now offers enterprises, outsourcers and service providers unparalleled access to performance management and productivity gains from the smallest hosted call center to the largest multi-national customer service operation. These three new versions of VIM herald a new level of convergence and integration with Cisco Unified Contact Center Enterprise and Hosted 8.0 and the successor to WebView and Cisco Unified Intelligence Suite, the new Cisco Unified Intelligence Center.
Since its launch less than a year ago VIM Performance has been chosen by some of the most demanding customer service operations in the world to help transform the efficiency, effectiveness and reach of contact centers whether in-house, hosted or outsourced.
An excellent example of an organization delivering game changing customer contact improvements can be found in South Africa where Exony and Cisco have been helping Dimension Data to rewrite the rules of the economics of customer contact. Dimension Data , a global specialist IT services and solutions provider headquartered in South Africa, has created the iOD or 'Interaction on Demand' service to provide full enterprise-class call center functionality on a pay per use basis. Dimension Data's customers get business user empowered virtual contact centers backed up by a fully secure, resilient carrier grade infrastructure but without the associated Capital Expenditure.
iOD brings best-in-class customer contact components together in a fully secure, flexible and scalable customer contact environment. Organizations already using the service are lowering their operating costs by only paying for the resources they use rather than what they used to require meeting peak demands. Similarly they are able to exploit a wide range of highly sophisticated interaction management tools with a cost/capability footprint to suit their business needs exactly. From banking to energy to travel Dimension Data's iOD customers can now mobilize customer service assets faster and more cost effectively than their competition.
Anton Jooste, General Manager for Customer Interactive Solutions, Dimension Data Middle East & Africa commented: "Exony VIM has been a key enabler of the iOD service offer from Day 1. With the newly available option of VIM Standard, we are able to extend the offer available to our customers. A key benefit of this innovation is that with VIM now available at multiple tiers of functionality, we can now flexibly support a customer as their sophistication in the use of the iOD service and pursuit of customer contact productivity grows".
An important customer of the iOD service is Merchants – Dimension Data's specialist contact centre consulting and outsourcing line of business - who support a number of major South African companies in achieving operational excellence in their contact centers. "Our business proposition is 100% focused on helping our partners to get the most out of their customer contact investments by targeting excellence in customer service experience and productivity of resources", said Sandra Galer, Head of Operations at Merchants, South Africa. "Using VIM, we have been able to achieve new levels of productivity and transparency in a number of large scale operations and will be further enhancing our application of the technology in the near future."
"We are delighted at the business success that Dimension Data is today achieving on the iOD platform enabled by Cisco and Exony technology. This is another great example of Cisco and Exony together helping to change the economics of customer contact; whether it's delivering cloud-based solutions, multi-tenanted hosted services or enterprise transforming Unified Communications. Together we are enabling our customers, in both IT and business operations, to benefit from sophisticated innovation in customer contact to drive new levels of customer experience insight and contact center productivity," said John Hernandez, Vice President and General Manager of the Customer Contact Business Unit at Cisco.
"Exony VIM has always been focussed on accelerating and increasing the benefits of virtualized contact centers" said Rex Dorricott, CEO of Exony. "Building on the considerable successes of VIM Performance we are today able to significantly broaden the family of VIM solutions so that more customers and partners than ever before can take full advantage of what Unified Communications has to offer customer centric businesses."
About Exony:
Exony is a leading provider of customer interaction performance management and optimization solutions to global Enterprises & Service Providers who operate Virtual Contact Centers (VCCs). Based on our award winning Virtualized Interaction Manager™ , VIM Performance dramatically increases the ability of Virtual Contact Center business owners to deliver customer contact productivity gains. Since its foundation in 1999, Exony has an enviable track record of innovation and thought-leadership. Our mission has always been to put visibility and control of VCC operations into the hands of customer contact managers and business users at every level of the organization.
Exony has main offices in Boston and Newbury, UK.
http://www.exony.com
About Dimension Data
Dimension Data plc (LSE:DDT), a specialist IT services and solution provider, helps clients plan, build and support their IT infrastructures. Dimension Data applies its expertise in networking, security, operating environments, storage and contact centre technologies and its unique skills in consulting, integration and managed services to create customised client solutions.
For more information, go to http://www.dimensiondata.com
PR. Contact
Simon(dot)Bunegar(at)Exony(dot)com
+44 (0)1635 271555
###