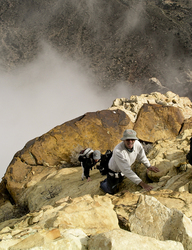 The book, "Hiking the Southwest" contains color photos of key landmarks and gps waypoints so hikers can actually follow cross country routes instead of getting lost
Las Vegas, NV (PRWEB) April 27, 2010
Branch Whitney, author of Hiking Las Vegas, Hiking Southern Nevada, and Hiking the High Sierra, newest book, Hiking the Southwest was released today. The book covers the best hikes in Bryce Canyon, the Grand Canyon, Mt. Charleston, Red Rock Canyon, Sedona, Zion National Park and other classic hikes in Arizona, Nevada and Utah. During this economic down time hiking is the perfect activity. It's healthy, fun and inexpensive.
Hiking the Southwest contains color photos of key landmarks and GPS waypoints so hikers can actually follow cross country routes instead of getting lost. Information on permits, lodging and camping is included in an easy to read format. A fast facts section for each hike has pertinent information (distance, elevation gain, time to complete and danger level) so readers can make a quick and intelligent decision about the difficulty of the hike. Safety warnings, a glossary and hiking tips are also included.
Hikes range from easy family walks to the extreme 45 mile Rim to Rim to Rim hike in the Grand Canyon. There are hikes to the highest peak in Arizona (Mt. Humphreys), Nevada (Boundary Peak), and New Mexico (Mt. Wheeler). Canyoneering adventures, some of the best rock scrambling routes in the country, must do backpacks, and hikes to some of the most incredible places in the Southwest are all included.
Branch Whitney has hiked all over the Southwest for the past 15 years and has led thousands of hikers on some of the coolest routes in the country. He is the owner and webmaster of http://www.hikinglasvegas.com. In this book he has included only the best hikes from the long list of hikes he has done. The book was published by Huntington Press.
Contact:
Branch Whitney
Hiking Las Vegas.com
702-876-7926
http://www.hikinglasvegas.com
###