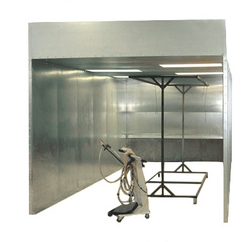 Franklin is convinced that our combination of competitive pricing and prompt, friendly support after the sale truly sets Reliant apart in the powder coating equipment market.
Somerville, AL (PRWEB) April 26, 2010
Reliant Finishing Systems (http://www.reliantfinishingsystems.com) announced today that they have formalized a distributorship agreement with powder coating systems specialist, Franklin Slaton. Mr. Slaton will promote and support Reliant's popular line of powder coating booths and powder curing ovens. The agreement will establish Mr. Slaton as a new point of contact for industrial, aerospace and automotive clients from the U.S. and Canada.
Mr. Michael Schuerer, President of Reliant Finishing Systems, is confident that the new relationship will increase sales and assure end-users of excellent support after the sale. "When Mr. Slaton and I first discussed his interest in Reliant, it was clear that he had the right mix of technical know-how and salesmanship to be effective for us. He also demonstrated a great deal of innovative thinking and an extraordinarily competitive nature. He compiled an extensive amount of research on our equipment--as well as products from our major competitors--before our first in-depth meeting. Based on this information, he was able to effectively communicate the benefits of our equipment from day one. I believe Franklin will be a great asset for Reliant and for our clients, and I'm glad we've locked down a distribution agreement with him," he said.
Mr. John Thomason, Reliant's Executive Vice President, added, "We recognize that because of Reliant's rapid growth, we need to expand our network of distribution partners. By working with Mr. Slaton, we will instantly increase our level of customer support. He has shown that he understands what makes our company successful. Franklin is convinced that our combination of competitive pricing and prompt, friendly support after the sale truly sets Reliant apart in the powder coating equipment market."
Reliant will work with Mr. Slaton to support new and existing clients in the industrial, aviation, racing and automotive/motorcycle parts markets. The new products that will be sold and supported by Mr. Slaton have many advantages over equipment currently used within the industry. Versions of the Reliant products that meet California's emission guidelines are already in production. Adding to the appeal of these products is the fact that the heat systems mount at floor level in a vertical configuration, reducing maintenance costs compared to conventional roof-mount systems.
SprayBoothSupplies.com (http://www.sprayboothsupplies.com) was also recently selected by Reliant Finishing Systems as a distribution partner. SprayBoothSupplies.com's President, Mr. Manolo Diaz-Marta, is pleased about joining forces with Mr. Slaton. "I've had the pleasure of working with Franklin on and off for several months. He's pragmatic and really understands how to help clients avoid the stumbling blocks that many first-time coaters face," he said.
Mr. Slaton is enthusiastic about his new role. "I'm thrilled to be working with Reliant. I've known several of their key personnel for many years and I've always had a respect for their products and their approach to customer support. It amazes me how quickly they can respond to the needs of their clients. There are few companies in any industry that are so focused on providing prompt, effective, fairly-priced solutions for their customers. As a Reliant distributor, I look forward to helping newcomers to powder coating, as well as experienced coaters who are ready to improve their productivity, lower their costs or increase their throughput," he said.
Over 150 Reliant dry-off and powder curing oven models and over 200 Reliant powder coating spray booth models are now available from Mr. Slaton. He will also offer site surveys, system evaluations, and the sales and support of blast rooms, wash booths, pre-treatment stations, and related equipment from Reliant, as well as Wagner powder guns, Electro-Steam products, and Empire blasting equipment.
###