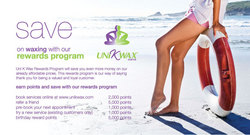 North Miami Beach, FL (PRWEB) April 30, 2010
The face and body waxing specialists, Uni K Wax Centers offers significant savings with their Rewards Program to thousands of loyal customers daily. Whether it's a bikini wax or eyebrow shaping for her or a back or chest wax for him; Uni K Wax Centers delivers the very best natural hair removal waxing services for both men and women at affordable prices.
Simple, easy and effective, Uni K Wax Rewards Program lets loyal customers receive rewards points every time they wax and/or purchase Uni K Wax Center's Body Collection products or gift cards. Customers can earn 2,000 reward points when they book their services online at http://www.unikwax.com; 5,000 points when they refer a friend to Uni K Wax Centers (that's $5.00 towards their next waxing service); 1,000 points when they conveniently pre-book their next waxing appointment and if they are still doing things like shaving their legs, they will receive 1,000 points for trying a new service.
Other special savings include 5,000 Birthday Reward points when they wax during their birthday month and customers will also receive 10 points for every $1.00 they spend on waxing services, gift cards and Uni K Wax Body Collection products.
New and existing customers can sign up for Uni K Wax Rewards Program by simply visiting a Uni K Wax Center near them. With excellent customer service, a comfortable and clean hair removal experience and outstanding quality in pre and post-waxing skin care products, Uni K Wax Centers are the first to create a waxing-only center for men and women. The brand originated in the bikini capital of the world, Miami (South Beach), Florida in 1993. After the successful opening of three additional centers in Florida, Uni K Wax Centers created their first franchise in 2006.
As of April 2010 there are Uni K Wax Centers operating in Aventura, Bal Harbor, Brickell Village, South Beach, Coral Gables, Doral, East Countrywalk, Fort Lauderdale, Gainesville, Jupiter, Kendall, Kissimmee, Miami Lakes, North Miami, Miramar, Pinecrest, South Miami, Tamiami, Tampa, West Kendall, Bal Harbor and Weston, Florida as well as, New York and San Diego, California.
Uni K Wax Centers are devoted to the art of natural and safe hair removal in a clean and comfortable environment. Uni K Wax has created a greener waxing experience in facial and full body waxing and uses an innovative natural herbal wax that completely removes hair without paper strips. This special wax is warm and soothing on the skin and never exceeds one degree above normal body temperature.
Uni K Wax always stays soft on the skin and has a proprietary elasticity that allows the waxer the ability to remove hair quickly and thoroughly without tugging the skin with paper strips. Uni K Wax is created from safe, natural ingredients including pine sap and beeswax and has an aloe vera base that nourishes the skin.
Visit ukikwax.com for a full listing of all Uni K Wax Centers around the country and follow us on Facebook and Twitter.
###