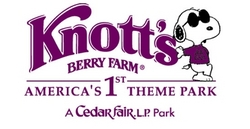 Buena Park, CA (Vocus) April 27, 2010
Today's most popular gospel performers will take the stage at the 10th Annual Gospel Showcase. Knott's Berry Farm and KJLH Radio have teamed up again to present a day of non-stop entertainment, Saturday, May 15.
Gospel Showcase will pack two stages with powerhouse gospel performers from the playlist of "Spread the Word" (broadcast every Sunday noon – 6 p.m.) on KJLH. Scheduled performers include Bebe Winans, Marvin Sapp, Hezekiah Walker, Greg O' Quinn, Beverly Crawford along with special guest host, Kelly Price.
In addition to established gospel artists, this year's line-up will also include some of L.A.'s finest church choirs invited by KJLH to share their gifts at the showcase including West Angeles Mass Choir, City of Refuge Psalms Choir, Greater Zion Family Voices, Praizum, Greater LA Cathedral Choir, LA Inner City Mass Choir and many, many, more.
Gospel Showcase at Knott's offers a full day of family fun. In addition to the stellar performances, guests can also take in some of Knott's awe-inspiring thrill rides including Silver Bullet, Xcelerator, Supreme Scream, and Pony Express. The younger set always enjoys a visit to Camp Snoopy where they can visit their favorite beagle and take one of the many rides designed specifically for them.
Tickets are just $31.99 for regular admission with a discount coupon at gospel music and bookstores and $19.99 for juniors (ages 3-11) and seniors (62+), or purchase Knott's tickets on-line for just $31.99 (a $22 savings) at knotts.com. Tickets for Gospel Showcase are now on sale at Knott's Guest Relations or on-line at http://www.knotts.com. For a list of participating bookstores log on to http://www.knotts.com. For information on group tickets (15 or more), call Knott's Group Sales at (714) 220-5211.
CONTACT:
Michele Wischmeyer
Jennifer Blazey
(714) 220-5130
###