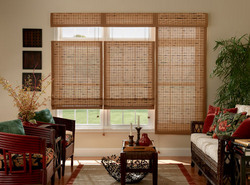 Middleton, WI (PRWEB) April 28, 2010
Springs Window Fashions announced today the expansion of its Bali Green by Nature™ program by launching a new website, http://www.GreenBaliBlinds.com . The new website will focus on promoting Bali's Earth-friendly Wood Blinds and Natural Shades and a new partnership with the Arbor Day Foundation.
"We've been a Green company for over a decade," said Lisa Vandermause, retail channel marketing manager at Springs Window Fashions. "GreenBaliBlinds.com is a great venue to spread that message and encourage consumers to make environmentally smart choices when it comes to their décor."
Consumers can visit GreenBaliBlinds.com and register their purchase of Bali Wood Blinds or Natural Shades to help support the company's goal of planting 100,000 trees with the Arbor Day Foundation in areas devastated by wildfire, insects or disease. They can also register to win free custom blinds and shades for their home.
GreenBaliBlinds.com will include features on:
· Bali's partnership with the Arbor Day Foundation to plant 100,000 trees
· Bali's new Natural Shades and Wood Blinds and why they are an environmentally responsible décor choice
· Bali's high-recycling manufacturing facility in Grayling, Michigan
· Bali's energy-efficient Cellular Shades with a link to Bali's new Energy Calculator
· Bali's Wood Blinds Contest, offering consumers a chance to win Wood Blinds for their home worth up to $2,500
About Springs Window Fashions
Bali®, Graber® and Nanik® are brands of Springs Window Fashions, the Best Experience Company. Springs Window Fashions supplies leading retailers and distributors with a complete line of horizontal and vertical blinds, shades, specialty treatments and window hardware. Springs Window Fashions is based in Middleton, WI. To learn more about all our products, visit baliblinds.com, graberblinds.com and nanikblinds.com.
About the Arbor Day Foundation
The Arbor Day Foundation is a nonprofit, environmental and education organization of more than one million members with a mission to inspire people to plant, nurture, and celebrate trees. More information on the Foundation and its programs can be found at http://www.arborday.org.
###