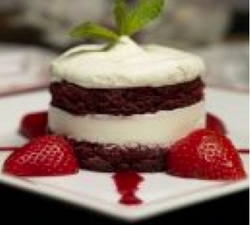 Los Angeles, CA (PRWEB) April 27, 2010
As most Chinese restaurants perfect the fortune cookie, Philippe forgoes the minimalist dessert menu and ushers in a more opulent dining experience with a famous final course. Forget tempura cheesecake and green tea ice cream, in-house pastry chef Keith Freiman tantalizes guests with his delectable desserts designed for luxury. Adorning the dessert menu are Chocolate Layer Cake with strawberry compote, Red Velvet Cake with berry sauce and fresh strawberries, Molten Chocolate Cake with ice cream and chocolate sauce, Warm Apple Crumb Tart with caramel ice cream and caramel sauce, Vanilla Crème Brûlée, with almond biscotti, Peanut Butter Pie with candied peanuts and caramel and chocolate sauces, Key Lime Pie with fresh raspberries, and Coconut Panna Cotta Napoleon with berry sauce and fresh raspberries.
Creating traditional desserts with a twist, pastry maestro Keith Freiman brings years of experience at famous eateries to Philippe. After attending the Culinary Institute of America, Freiman launched his career in Miami as Assistant Pastry Chef at Blue Water Grill and helped open the Ocean Grill. With features in Miami magazines and newspapers, he made his way from Assistant Pastry Chef to Mark Milatello at Marks Las Olas, to Executive Pastry Chef to Nick Morfogan at 32 East. Freiman's sweeter-side-of-life creations have established him as one of the well-known Pastry Chefs in Miami, where he riveted customers for over 5 years as Executive Pastry Chef at Smith & Wollensky, Miami, the popular All-American Steak-House. Today, as Pastry Chef at Philippe, he continues to feed our indulgence for the culinary arts by continuing to bring out the sweeter side of life.
About Philippe: Philippe is the eponymous restaurant of Chef/Owner Philippe Chow, the talented Hong Kong native who helmed Mr. Chow (no relation) for 25 years before opening his own New York City flagship restaurant. Philippe draws upon his classical culinary training, putting his own spin on traditional Chinese cuisine with results that are modern, flavorful and theatrical. The atmosphere at the restaurant is minimalist and stylish, with a devoted nightly following that makes up a "who's who" of the music, media and film industries.
Philippe New York 33 East 60th Street, New York, NY 10022 (212) 644-8885
Philippe Miami 2305 Collins Avenue, Miami Beach, FL 33139 (305) 674-0250
Philippe Hamptons 44 Three Mile Harbor Road, East Hampton, NY 11937 (631) 907-0250
Philippe Mexico City Paseo De La Reforma 2620 Lomas Altas, Mexico, D.F. 11950
Philippe Chow Express 469 Sixth Avenue, New York, NY 10011 (212) 929-8949
Philippe West Hollywood 8284 Melrose Avenue, Los Angeles, CA 90046 (323) 951-1100
# # #