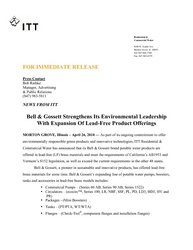 We want to ensure that our products meet or exceed the requirements of current as well as new legislation.
Morton Grove, Illinois (Vocus) April 28, 2010
As part of its ongoing commitment to offer environmentally responsible green products and innovative technologies, ITT Residential & Commercial Water has announced that its Bell & Gossett brand potable water products are offered in lead-free (LF) brass materials and meet the requirements of California's AB1953 and Vermont's S152 legislation, as well as exceed the current requirements in the other 48 states.
Bell & Gossett, a pioneer in sustainable and innovative products, has offered lead-free brass materials for some time. Bell & Gossett's expanding line of potable water pumps, boosters, tanks and accessories in lead-free brass models includes:

Commercial Pumps – (Series 60 AB, Series 90 AB, Series 1522)
Circulators – (ecocirc™, Series 100, LR, NBF, SSF, PL, PD, LD3, HD3, HV and PR)
Packages - (Mini Boosters)
Tanks – (PT/PTA, WT/WTA)
Flanges – (Check-Trol®, companion flanges and installation flanges)
"Some states are now requiring the use of lead-free potable water products in new construction as well as for replacement and repairs, and other states are expected to follow suit," said Mark Handzel, Director of Building Services Market at ITT Residential & Commercial Water. "We want to ensure that our products meet or exceed the requirements of current as well as new legislation."
Recognized as the number one General Industrials Company in Newsweek's 2009 Green Ranking, and a worldwide leading pump manufacturer and HVAC systems provider, ITT markets a variety of energy-saving products, including its new lead-free ecocirc pump that can save a family 12,000 gallons of water a year and significantly reduce energy expenses. Other examples of how ITT helps customers achieve impressive energy savings include:

Bell & Gossett Technologic® 502 variable speed pump controller, which is a 2010 AHR Expo Innovation Award winner
Energy Performance Services (EPS) pump system optimization program that helps industrial and commercial customers significantly reduce energy costs
Bell & Gossett OPTIFLO™ balance valves that allow for the highest possible efficiency of chillers, condensing boilers, coils and heat exchangers
Initiating energy savings programs at its many manufacturing facilities – such as changing to energy-efficient lighting at its Bell & Gossett factory in Morton Grove, Illinois that saves $200,000 annually
Various internal efforts that have reduced Green House Gas emissions every year since 1995
For more information visit http://www.bellgossett.com
About Bell & Gossett
Bell & Gossett, a brand of ITT Corporation, is a leading manufacturer of centrifugal pumps, circulators, hydronic specialties, heat exchangers, condensate handling equipment, and packaged systems for variable and constant speed pumping, heat transfer and pressure boosting.
About ITT Corporation
ITT Corporation is a high-technology engineering and manufacturing company operating on all seven continents in three vital markets: water and fluids management, global defense and security, and motion and flow control. With a heritage of innovation, ITT partners with its customers to deliver extraordinary solutions that create more livable environments, provide protection and safety and connect our world. Headquartered in White Plains, N.Y., the company generated 2009 revenue of $10.9 billion. http://www.itt.com
# # #