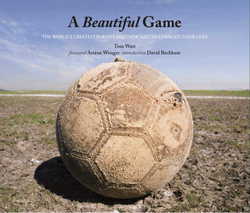 A Beautiful Game offers rare, emotional, and striking insights—a true celebration of soccer's unique ability to touch our hearts wherever the beautiful game is played.
San Francisco, CA (PRWEB) April 27, 2010
Combining 130 stunning photographs with the world's greatest players sharing their personal stories of how soccer transformed their lives, this inspiring book is an intoxicating celebration of the "beautiful game." Available in time for the 2010 World Cup in South Africa. Foreword by Arsène Wenger. Introduction by David Beckham.
"Manchester, Madrid, Los Angeles or Freetown: football's a game people love everywhere you go…Every dressing room [is] full of players from different countries, different continents, But, even though you may not speak the same language as your teammate—and you may have been brought up in completely different backgrounds—when you're playing football together you understand each other perfectly."
— David Beckham, from the Introduction
In the summer of 2010, millions of soccer fans will turn their eyes to South Africa for the 19th FIFA World Cup.
It's a sport celebrated throughout the globe, played in parks, playgrounds, fields and stadiums worldwide. And now, just in time for the 2010 World Cup, A Beautiful Game: The World's Greatest Players and How Soccer Changed Their Lives (HarperOne; May 2010; $29.99; ISBN 9780061735356) offers a fitting tribute. Sports writer and BBC broadcaster Tom Watt interviewed some of the world's greatest players, compiling their stories of growing up, falling in love with the game, and watching it transform their lives:

Landon Donovan (U.S.): "It was a big thing, finally being able to play on a team when I was around five…I had no idea of what soccer was or what it should be at that stage. I just know that, if the ball was out there, then I could play and I was happy. It was that simple."
Lionel Messi (Argentina): "More than anything, I love playing football. And it's been like that since I was very young. I enjoy playing: it's not something that feels like a job. It still feels like fun, like it did when I was a very small boy."
Nwankwo Kanu (Nigeria): "We could not always get three meals in a day; sometimes we'd struggle. But we always had soccer.…It's something that pulls the whole country together; something that can bring peace and unity to Nigeria."
With an introduction by David Beckham, A Beautiful Game brings these players' stories to life with over 130 full-color images that offer rare, emotional, and striking insights—a true celebration of soccer's unique ability to touch our hearts wherever the beautiful game is played.
Five percent of the originating publisher's revenue from sales of the book worldwide will benefit selected UNICEF sports-related projects.
About the Editor
Tom Watt is an English actor, writer and broadcaster. Tom has broadcast about football extensively in the UK and the US, and after presenting sports shows over the past ten years, he is currently the lead presenter for BBC London's football coverage. He also hosts a weekly program for Arsenal's club TV Channel.
As well as writing on football for every major UK newspaper, Tom is the author of several books about the game: The End, a groundbreaking oral history of Arsenal FC; A Passion for the Game, 90 firsthand accounts of life behind the scenes in English football; The Greatest Stage, the official history of Wembley Stadium; and, most recently, My Side, the bestselling autobiography of David Beckham.
###