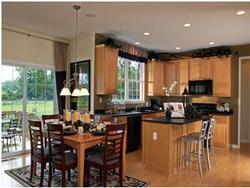 Fortville, IN (PRWEB) April 27, 2010
Ryland Homes, the premier Indianapolis homebuilder, has announced that its environmentally-friendly HouseWorks® new homes are available throughout its comprehensive portfolio of Indianapolis area communities. The HouseWorks approach takes more than seven areas of environmental impact into consideration during new community development, with 15 specific eco-friendly features and amenities designed to preserve the environment, conserve energy, provide more comfort and offer savings for home buyers.
Ryland has developed an environmentally-friendly strategy initiated early in each neighborhood's planning and architectural design process. Ryland's ongoing dedication to sustainability includes the areas of energy and water conservation, indoor environment quality, global impact sensitivity and ongoing home operation and maintenance education.
All HouseWorks new homes include the following standard features, all designed to minimize the impact on the environment while optimizing the home buyer's savings:

Airtight construction
Superior Knauf fiberglass insulation
High efficiency and environmentally-sound HVAC equipment utilizing Bryant's non-ozone-depleting Puron® Refrigerant
Drywall waste recycling
Flow optimized faucets by Moen®
Engineered floor system manufactured from trees grown within the Sustainable Forestry Initiative (SFI)
State of the art plumbing delivering clean, green and leak resistant water piping
Advanced framing techniques resulting in precision fit and engineered performance
LP Smartside® Soffit and trim in designated communities
Dual-paned, low emissivity glass windows
JamesHardie HardiePlank® "green and sustainable" siding in designated communities
Mohawk's SmartStrand® environmentally friendly carpets
Counterstrike™ gas piping designed to withstand higher levels of damaging lightening than conventional products
Low volatile organic compound (VOC) interior paint
Ryland's 24 new home communities throughout greater Indianapolis offer abundant amenities, including tennis courts, community pools and walking trails. In addition to the HouseWorks option, the My Style® Design Center is unique to Ryland Homes, offering an interactive showroom where buyers select the finishing touches for their new home. From flooring to counter tops and cabinets, a variety of options to fit each buyer's individual sense of style can be found at the Ryland Homes My Style Design Center.
For more information on HouseWorks by Ryland Homes, visit us at ryland.com/find-your-new-home/indianapolis/houseworks.aspx. For details or directions to our Indianapolis new home communities, or to learn more about the Ryland My Style Design Center, visit http://www.ryland.com/find-your-new-home/12-indianapolis.html.
About Ryland Homes
Headquartered in Southern California, Ryland is one of the nation's largest new home builders and a leading mortgage-finance company. Since its founding in 1967, Ryland has built more than 285,000 homes and financed more than 240,000 mortgages. The Company currently operates in 15 states and 19 homebuilding divisions across the country and is listed on the New York Stock Exchange under the symbol "RYL." For more information, please visit http://www.ryland.com/find-your-new-home/12-indianapolis.html.
# # #