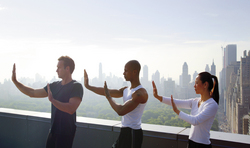 We designed the Holistic Boot Camp program as a way for people to jump-start and instil holistic changes that enhance their overall health and fitness by combining intense cardio workouts with teachings about Asian philosophies on wellness
New York, NY (PRWEB) April 28, 2010
Get your beach-body back in shape for summer during the month of May with The Spa at Mandarin Oriental, New York's Holistic Boot Camp. Lead by in-house fitness guru, Aaron Rodriguez, this vigorous program combines western-style fitness with traditional Asian mind-body work to ignite the metabolism and re-energize the body.
The Spa's Holistic Boot Camp includes a group workout in Central Park every Monday and Wednesday in May which is designed to sculpt abs, tone arms and trim thighs. Participation is limited to 10 people to ensure that all participants get the customized guidance they need to succeed with their goals. To keep up the momentum of the Monday and Wednesday sessions, participants will receive a customized "homework" training program for a third workout-day each week on their own. Holistic Boot Camp members will also receive holistic wellness and nutrition tips to help them get into peak condition, a gym bag with training equipment used during the program, and a 15% discount on spa treatments at The Spa at Mandarin Oriental, New York throughout the month of May.
"Our new Holistic Boot Camp is the latest addition to The Spa's Wellness Series, a pioneering effort that explores ways to enhance lives by improving mental, physical and spiritual wellness," states Denise Vitiello, Spa Director at Mandarin Oriental, New York. "We designed the Holistic Boot Camp program as a way for people to jump-start and instil holistic changes that enhance their overall health and fitness by combining intense cardio workouts with teachings about Asian philosophies on wellness. We're also excited to have this program take advantage of our proximity to Central Park which will connect the group to nature and the changing season. We plan to offer a Holistic Boot Camp every spring and fall to give people the opportunity to strengthen their bodies, encourage good health and prepare mentally for the transition into a new season. This Spring Boot Camp is designed to prepare the body for Summer and our Fall Boot Camp will be designed slightly differently to help prepare the body and mind for the winter ahead."
The Spa's Holistic Boot Camp is a four week program from May 3 through May 26 with 80-minute group workout sessions in Central Park two days per week on Mondays and Wednesdays. The program is priced at $1,200 per person and space is limited to 10 participants. For more information or to make reservations please call The Spa at Mandarin Oriental, New York at +1 212 805 8800.
About Mandarin Oriental, New York
A stunning fusion of modern design with stylish Oriental flair, Mandarin Oriental, New York features 248 elegant guestrooms and suites — all with breathtaking views of Manhattan and Five-Star hospitality. Luxurious amenities include Asiate, the hotel's elegant restaurant; MObar created by noted interior designer, Tony Chi; the Lobby Lounge with dramatic views of Central Park; a 14,500-square-foot, Five-Star Mandarin Oriental Spa; and a state-of-the-art fitness center with a 75-foot lap pool. In addition, there is premium meeting and event space, including a 6,000-square-foot pillar-less ballroom with three walls of windows overlooking Central Park. Located in Columbus Circle's Time Warner Center, Mandarin Oriental, New York is in an idyllic location just steps away from world-class dining, shopping and entertainment, including the Broadway Theater District, Lincoln Center, Central Park, Jazz at Lincoln Center and the Time Warner Center's collection of upscale retail shops and restaurants.
Mandarin Oriental Hotel Group is the award-winning owner and operator of some of the world's most prestigious hotels, resorts and residences. Mandarin Oriental now operates, or has under development, 42 hotels representing over 10,000 rooms in 26 countries, with 17 hotels in Asia, 14 in The Americas and 11 in Europe and North Africa. In addition, the Group operates, or has under development, 14 Residences at Mandarin Oriental, connected to the Group's properties.
Photography of Mandarin Oriental is available to download, in high and low resolution, in the Photo Library of our Media section, at http://www.mandarinoriental.com.
# # #