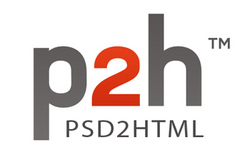 For a freelancer who juggles several projects at any one time, this service has been a godsend
Seattle, WA (PRWEB) April 27, 2010
P2H, the pioneer of high quality graphic Web design conversion into HTML, has announced a new affiliate program with financial rewards as incentive. Affiliate websites that refer customers to P2H will now receive a 15 percent commission from the customer's order of P2H services.
Through a proprietary process called "PSD to HTML," P2H takes a customer's graphic design or image and converts it to high quality, cross-browser compatible valid XHTML/ CSS markup. P2H is an extremely popular service for graphic designers, marketing firms and small businesses, and currently boasts more than 40,000 satisfied customers worldwide.
P2H has set itself apart from other website development companies by rewarding loyal affiliates who believe in their products. Designers and website owners now have a way to introduce P2H to new users and earn commissions. With the affiliate program, P2H hopes to encourage more customer traffic, develop affiliate loyalty, and broaden the sales of their services.
"I have used P2H.com for a few projects now and the results have always been spot on. For a freelancer who juggles several projects at any one time, this service has been a godsend," said Vicky Etherington of AzureMarketing.com.
"We are launching our affiliate program in response to strong demand from our customers and partners," said Robert Butterworth, P2H CEO. "While we have always enjoyed very strong word-of-mouth referrals, we're eager to introduce a formal affiliate program that will provide financial benefits for partners who send new customers to P2H."
Benefits of the affiliate program include customer service support from P2H, sales opportunities, and discount coupons and banners. Through networking and promotion, this program can be highly successful and is a great opportunity for P2H's business to business partners.
For more information about the affiliate program visit: http://www.psd2html.com/become-a-partner.html
About P2H
P2H is a U.S. based, global web development company with more than 200 employees and growing. Founded in early 2005, the company was the first service to offer high quality conversion of graphic Web design into Hypertext Markup Language (HTML) and its extensions, as well as skins / themes / templates for various engines. P2H prides itself on superior customer service and offers complete dedication to their clients and their creative business needs.
# # #