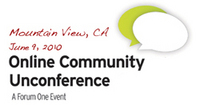 I liked that all of the sessions were relevant because they were chosen by people actually working in this industry. And not just people...really smart people.
San Jose, CA (PRWEB) April 27, 2010
Forum One announces attendees for their fifth annual Online Community Unconference, an open space meeting for online community and social media practitioners, managers, developers, business people, tool providers, and investors to discuss experiences and strategies in the development and growth of online communities and social media. The event takes place in Mountain View, CA, on June 9, 2010.
Current attendees include thought leaders from companies driving innovation in the online community and social media industry, including; Oracle, Jigsaw, Google, HP, Intel, iVillage, Autodesk, CafePress, Paypal, WiserEarth, Panasonic, LinkedIn, Microsoft, Linden Lab, Care2.com, NetApp, Flickr, Wells Fargo, and Rosetta Stone.
"Our events draw a very experienced crowd of industry practitioners who share best practices and effective strategies, and who actively discuss challenges and successes that help solve tomorrow's problems," says Jim Cashel, founder and chairman of Forum One.
One of the most valuable benefits of the Unconference is that attendees create the agenda and participate in sessions that are most useful to them. A Social Web Communications Specialist who attended the most recent Online Community Unconference shares her enthusiasm for the open space format of the event: "I appreciated the opportunity to discuss the issues that were of importance/interest to me. Being able to lead, leave, or jump into discussions at will was great, as it allowed each of us to seek and find the information we came for."
While the topics are determined on the day of the event by participants, some likely topics include: twitter for business; holistic social media strategies; social media ecosystems; community growth strategies; community metrics and ROI; community business models and monetization; and emerging technologies.
To register for the Online Community Unconference, or for more information, please go to: http://ocu2010-pr2.eventbrite.com.
There are several sponsorship slots still available for companies who offer platform solutions and/ or social media services and management tools to online communities. For more information, please contact Chloe Caviness: ccaviness at forumone dot com.
About Forum One
Forum One provides expertise in internet strategy, online community and collaboration, user experience and design, social media, and innovative web site development to help organizations expand their influence and increase their impact. For more information, visit http://www.forumone.com.
# # #