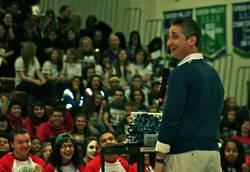 "The problem of bullying will not be solved by policy-making. It can only be solved by fostering compassion."
Los Angeles, CA (PRWEB) April 27, 2010
Nationally renowned youth motivational speaker Scott Greenberg will be speaking to middle schools and high schools about the problem of bullying.
One of the most popular motivational speakers for youth for over 16 years, Greenberg has given thousands of presentations at schools all over North America. Over time, he has seen how bullying has evolved.
"Bullying is not a new problem in schools, but newer technology has given tormenters a louder 'bully pulpit'" says Greenberg, referring to the epidemic of web-based bullying. "Students are now being harassed in a very public forum that is outside of the school's jurisdiction." During this school year, Greenberg has noticed an uptick in requests for him to speak on this issue.
While the topic of school unity has been a staple of his presentations for years, Greenberg will now shift his emphasis much more specifically to address bullying and the importance of kindness. He acknowledges that some teens are quick to disregard this message.
"A lot teenagers put up resistance when adults start using words such as 'character' and 'respect.' They want to know how being kind benefits them. That's how I sell it, by explaining the direct benefits of making more friends, and the consequences of making enemies." Greenberg uses relatable stories and humor to drive his points home. "When I was a teen we used to make fun of some students because everyday they spent lunch in the library playing computer games. We used to call them the computer dorks. You know what we call them today? Millionaires!"
In addition to addressing bullying, Greenberg will also give teens tools to build confidence and resilience.
"Bullies are only as powerful as we let them be. When we feel better about ourselves, we're less vulnerable to harassment. We'll also feel more compelled to defend others." He also believes that when students feel more confident, they're less likely to become bullies.
Greenberg is concerned that legislative reactions to bullying are misguided. "This problem will not be solved by policy making. We can only solve it by fostering compassion."
As a motivational speaker specializing in youth and school assemblies, Greenberg is an expert at grabbing teens' attention, connecting with their sensibility and delivering important messages to which they relate. He also offers resources for students to deal with bullying and other teen issues on his web site at http://www.scottgreenberg. com .
Over the next few months, Greenberg will be presenting motivational programs in Pennsylvania, Wyoming, Indiana, South Carolina and several in his home state of California.
Additional information is available at http://www.scottgreenberg.com.
About Scott Greenberg:
Motivational speaker Scott Greenberg gives live keynotes, workshops and training to organizations looking to achieve peak performance. He has written three books on student leadership, including the "Jump Start Leadership Workbook" series, and "The Sandbags & The Fire: How Leaders Cut Loose Their Hang-ups and Soar to Success." He is a contributing author to "Chicken Soup for the College Soul." Full bio, topic and client list are available at http://www.scottgreenberg.com .
# # #