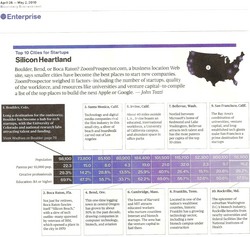 According to the article, ZoomProspector.com, a business location Web site, says smaller cities have become the best places to start new companies.
San Francisco, CA (Vocus) April 27, 2010
Bloomberg BusinessWeek partnered with ZoomProspector.com to identify the top 10 cities for starting a new business. According to the article, "ZoomProspector.com, a business location Web site, says smaller cities have become the best places to start new companies."
In its debuting magazine edition under the Bloomberg BusinessWeek title since Bloomberg's acquisition to combine Bloomberg and Businessweek, the magazine outlined the unique selling points of each location for startups. According to the magazine, In order to come up with this list, "ZoomProspector.com weighed a total of 11 factors, including the number of startups, quality of the workforce, number of patents, universities, and venture capital to determine the best place to build the next Apple or Google."
Businesses can leverage ZoomProspector.com's patent-pending search technology to analyze tens of thousands of communities and available properties nationwide to find the best possible location to match their needs. Using GIS and sophisticated online mapping technology, ZoomProspector.com enables businesses to search by type of commercial real estate, including office, industrial, warehouse, retail, vacant land, call center and flexible space. Once they find a property, businesses are able to conduct in-depth analysis around that location.
Website visitors can also search demographics for every community in the USA, while economic development organizations around the nation have listed themselves on ZoomProspector.com with dedicated Community Connection Pages providing contact information and additional community details.
View the complete list of top cities, which include Boulder, CO, Boca Raton, FL, Santa Monica, CA, and Bend, OR, on the ZoomProspector.com blog.
In a related Bloomberg BusinessWeek Special Report, Vivek Wadhwa, a visiting scholar at University of California at Berkeley and researcher at Duke University, discusses Why Boulder Is America's Best Town for Startups. According to Mr. Wadhwa, "The Colorado hotspot is the top U.S. destination for new tech companies largely because of a bottom-up revolution led by entrepreneurs."
About GIS Planning, Inc.
GIS Planning is the parent company of ZoomProspector.com, the largest nationwide website for corporate real estate professionals and site location experts seeking the right location for their business. As the inventor of online GIS implementations over 12 years ago, GIS Planning Inc. today has over 200 Economic Development Organization GIS implementations. With the majority of the 100 largest cities in the USA and covering over 11,500 cities as clients, its ZoomProspector Enterprise technology is the industry standard in economic development.
GIS Planning is also an exclusive partner of the International Economic Development Council, and has been on the Inc. 5000 list of the fastest growing private companies in the US for the past three years. In addition, GIS Planning has been covered in over 100 leading news publications, including The Wall Street Journal, BusinessWeek, Forbes, Fortune, Small Business The New York Times, and Inc magazine.
About Bloomberg BusinessWeek
Bloomberg BusinessWeek is a global source of essential business insight that inspires leaders to turn ideas into action. Through content, context, and collaboration, Bloomberg BusinessWeek moderates global conversations and moves business professionals forward. Founded in 1929, Bloomberg BusinessWeek magazine is the market leader, with more than 4.7 million readers each week in 140 countries.
Bloomberg combines innovative technology with unmatched analytic, data, news, display and distribution capabilities, to deliver critical information via the BLOOMBERG PROFESSIONAL® service and multimedia platforms. Bloomberg's media services cover the world with more than 2,200 news and multimedia professionals at 146 bureaus in 72 countries.
###