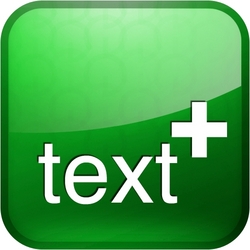 With textPlus, Canadian consumers now have an easy, affordable way to communicate with friends in Canada and the U.S., no matter what device they use. That's huge news for anyone who's ever gotten a painfully expensive cell phone bill - because frankly, texting in Canada ain't cheap
Marina del Rey, Calif. (PRWEB) April 27, 2010
Enormously popular free mobile application textPlus - which offers one-to-one, group and Community texting - now lets Canadian users text with anyone on a text-enabled phone in Canada and the U.S. for free. Using the app's companion 60611 short code, non-app users in Canada and the U.S. can also now text their app-user friends in both countries to start a conversation - and only be charged their normal texting rates.
Since its Canadian launch in February, the textPlus service has caught on in a major way. Message traffic has increase tenfold, and the app has catapulted to the #34 slot in the Canadian Apple App Store. Worldwide, the textPlus app has been downloaded over 5.5 million times.
"With textPlus, Canadian consumers now have an easy, affordable way to communicate with friends in Canada and the U.S., no matter what device they use. That's huge news for anyone who's ever gotten a painfully expensive cell phone bill - because frankly, texting in Canada ain't cheap," said Scott Lahman - textPlus address 'lama' - the CEO of GOGII, creator of textPlus.
In addition to its free and group texting solution, textPlus has also gained an enormous following for its Communities, which serve as mobile chatrooms. textPlus Communities are named and saved groups that use textPlus's group text "reply all" functionality to allow private and public groups to communicate in real time about topics of immediate shared interest - right on their phones. Community topics range from the practical to the social - everything from book groups and Little League teams to celebrity fans, video gamers and new moms. Community conversations are unlimited and free to the user, with messaging costs sponsored by advertisers.
Since its launch in the U.S. on June 1, 2009, textPlus has become one of the most popular text messaging applications available. Over 17.5 million users have experienced messages sent or received from the application, over 2 billion messages have been sent using textPlus and currently, on average, over 16 million messages are sent using the application each day.
The textPlus app is free to download for iPhone, iPod touch, iPad and Android phones, and offers free app-to-app texting anywhere in the world. So, a textPlus user in Montreal can now engage in a textPlus conversation with a user friend in Paris, New York, or anywhere else in the world, for free.
textPlus can be downloaded from the Apple App Store here.
About textPlus
textPlus brings ad-supported real texting and group texting to the iPad, iPhone, iPod touch and Android phones through both its mobile application and permanent short code, 60611. textPlus is carrier and Mobile Marketing Association (MMA) compliant and enables seamless interaction between textPlus application users and their friends using regular text messaging (SMS).
About GOGII
GOGII (go-jee) is a mobile communications technology company and creator of the textPlus app. GOGII is a U.S.-based startup backed by venture capital firms Kleiner Perkins Caufield & Byers and Matrix Partners. GOGII was founded in 2007 by the three founders of JAMDAT Mobile, the leading mobile entertainment publisher that was acquired by Electronic Arts in 2006.
For more information, please visit http://www.textPlus.com, or text GOGII to 60611.
###