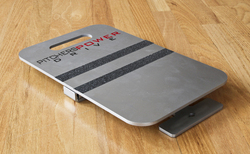 We are happy to now have an affordable product sized properly for young pitchers
Boston, MA (Vocus) April 27, 2010
Pitchers Power Drive (TM) today is pleased to introduce the Pitchers Power Drive Youth Model. Like its precursor, the Pitchers Power Drive Professional / Collegiate Model, the Pitchers Power Drive Youth model is a pitcher training aid designed to help young pitchers with the basic mechanics of balance during leg lift, and to learn to lead with their hips from knee lift to achieve maximum power and velocity from their lower body.
"We are happy to now have an affordable product sized properly for young pitchers", said John Miller, president, of Pitchers Power Drive. "We have had wonderful success in the first year with our professional / collegiate edition that is being used in hundreds of high schools and baseball academy's, over 70 collegiate programs, and by several professional teams and pitchers.
In the Pitchers Power Drive Youth model we now have a product that is sized more appropriately for training youth pitchers." The Pitcher Power Drive Youth model has the same look and attributes of the Professional / Collegiate model. The only difference is its size. The Pitchers Power Drive Youth model is slightly smaller in both width and length. It is also a 1/4 inch lower to the ground and weighs 4 lbs less.
Miller said the youth model has been tested and used as a training aid in his Winning Pitchers Baseball Academy in Boston with Little League aged pitchers. It is more appropriate for the weight of youth pitchers and works very well with their strength. It allows them to create a natural momentum delivery while using their stronger lower body muscles to create power. This takes the pressure of the arm and shoulder and makes the transition to the bigger diamond much easier. Teaching pitchers at a young age to use their stronger lower body muscles will pay big dividends as they develop skills to compete at higher competitive levels. Miller added that the younger pitchers like the multisensory training aid which gives them instant auditory click feedback and the kinetic feel of learning to use their lower body muscles as they pitch full distance to a catcher.
The Pitchers Power Drive Youth model is designed for children in youth baseball programs. "We expect that the Youth model will be used by pitchers up to age 12, and maybe even some smaller pitchers beyond that age who have moved up to the big diamond," continued Miller.
The Pitchers Power Drive Youth model is made in the USA out of solid steel and weighs 16 lbs. to allow it to be heavily used for pitching training. The new Pitchers Power Drive Youth model is priced at $179 and may be purchased directly from Pitchers Power Drive, or from a Pitchers Power Drive authorized retailer.
About Pitchers Power Drive
Pitchers Power Drive is based in Holliston, Massachusetts. They are the developer of the US patented Pitchers Power Drive Professional / Collegiate model and the Pitchers Power Drive Youth model. The design of the Pitchers Power Drive comes from their extensive experience working with and training pitchers at the Winning Pitchers Baseball Academy. Pitchers Power Drive is a trademark of Pitchers Power Drive. To learn more about Pitchers Power Drive visit the Pitchers Power Drive website at http://www.pitcherspowerdrive.com You can also follow Pitchers Power Drive at http://www.facebook.com/pages/Pitchers-Power-Drive/127620846713 at http://twitter.com/pitching247 at http://www.youtube.com/user/pitcherspowerdrive and at http://pitcherspowerdrive.blogspot.com/
# # #