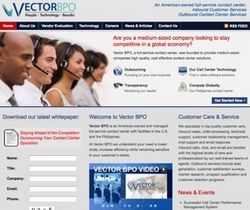 Companies need to lower cost, increase efficiency, while remaining sensitive to their customer's needs.
Celina, TX (PRWEB) April 28, 2010
Vector BPO, an American owned and Operated Contact Center BPO, launched an improved customer-focused, interactive website this month. The site, http://www.vectorbpo.com, is designed to provide clients, customers and mid-sized organization with information regarding solutions to their call center outsourcing needs.
Vector BPO's President and CEO, Paul Flannery understands that "companies need to lower cost, increase efficiency, while remaining sensitive to their customer's needs. Not only is it important to talk the talk, our primary focus is to walk the talk."
Vector BPO is quickly becoming recognized as a leader in Philippine call center management (or Contact Center Outsourcing). Protecting your brand and corporate image is crucial in today's business environment. Today's consumers demand excellent customer service and a live, professional voice.
Outsourced vendors are an extension of your business. Every customer they touch impacts your reputation, good or bad. Vector BPO's management team understands this and implements best practices in people, management, technology and processes.
"We have the strongest people in the industry and we wanted to showcase our talent through our new website launch," explains Flannery. "People, Technology and Results are what Vector BPO prides itself on and we wanted a portal to reinforce our commitment to our customers and clients."
Vector BPO has experienced phenomenal growth since opening its Cebu, Philippines location. "It's a people business", explains Senior Vice President Greg Meares. "Our commitment to one another is imperative in delivering results and following through. Our clients and their customers are the ultimate winners. And our people make it happen."
About Vector BPO:
Vector BPO is an American-owned and managed full-service contact center with facilities in the U.S. and the Philippines. We believe there are five main reason's to outsource with Vector BPO:
1. Our customer-focused approach to call center management;
2. We utilize state of the art contact center technology;
3. We allow you to focus on your core business;
4. Our ability to rapidly scale up or down in response to a challenging marketplace;
5. Our call centers are staffed by multilingual experts in the US, and the Philippines.
Visit http://www.vectorbpo.com to watch our video and learn more about how we can assist you.
###