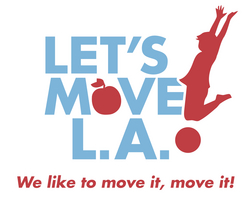 Let's Move L.A. believes every child has the right to a healthy childhood.
Los Angeles, CA (PRWEB) April 27, 2010
Peter Groff from the Obama Administration will Celebrate LET'S MOVE L.A. Launch Party with Community Leaders, Students and Local Residents
Let's Move L.A. believes every child has the right to a healthy childhood.
Los Angeles, CA – On Wednesday, April 28, at 11:00 am, hundreds of participants including national, statewide and local leaders will gather at the FAME Renaissance Center to help kick off Let's Move L.A.
Let's Move is a nationwide health initiative created by First Lady Michelle Obama to fight childhood obesity and raise healthier children across America. Let's Move L.A. is the Los Angeles supportive arm of that campaign.
Dignitaries slated to attend the Los Angeles celebration include Peter Groff, Director of President Obama's Faith-Based and Community Initiatives Center, U.S. Department of Education, baseball legend Dave Winfield and Antronette K. Yancey, MD, MPH, a professor in the Department of Health Services, UCLA School of Public Health, and Co-Director of the UCLA Kaiser Permanente Center for Health Equity. In addition, a distinguished group of faith-based leaders, local officials and academic instructors will also be in attendance.
Participants will be engaged in a multitude of fun filled activities hosted by FAME Corporations. More than 60 students from Frederick Douglass Academy High School will walk together with their teachers to the event. A choir from Holy Name of Jesus School will perform inspirational songs along with a choreographed dance number by students from the Central Los Angeles High School of Visual and Performing Arts. The event will be emceed by Dave Winfield and actor Michael J. Pagan. Other features of the kick off include specialty foods provided by Kogi and The Green Truck; cooking demonstrations by more than 10 chefs from Le Cordon Bleu College of Culinary Arts; healthy salads by chefs of Homegirl Café; exercise and dance instruction; and one-on-one consultations with nutritionists and personal trainers.
Let's move on this crisis! Let's move together! Let's Move L.A.!
FAME Corporations and First AME Church of Los Angeles are hosting the Let's Move L.A. launch party to kick off the movement toward helping bring awareness to this empowering campaign.
WHAT: Let's Move L.A. Inaugural Event and Launch Party
WHO: Students, parents, educators, government officials, community and faith based leaders and interested community members.
WHEN: Wednesday, April 28, 2010 at 11:00 am to 2:00 pm.
WHERE: FAME Renaissance Center
1968 West Adams Boulevard, Los Angeles, CA 90018 Corner of Western Avenue and Adams Blvd. Free parking available.
# # #