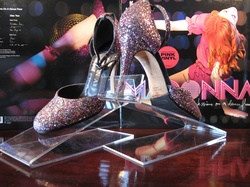 "The wonderful generosity of these superstar friends will help hundreds of children in South India to achieve their own star potential" Princess F. Sturdza
(PRWEB) April 28, 2010
Madonna, Johnny Depp, Riccardo Cocciante, Sir Richard Branson, Stella McCartney, Josh Brolin, Diane Lane, Vincent Perez, Usain Bolt, David Beckham, Didier Defago and Jonty Rhodes are among the stars of stage, screen and sport who have given personal items to be auctioned at the Gala Dinner of the Heart For India Foundation in Geneva, Switzerland, on April 30th.
One of the most exciting gifts, judging by the frenzy among the girls working at the Heart For India Foundation office, is a pair of glittering, scarlet and gold shoes worn by Madonna during her 2006 'Confessions' tour. Madonna presented the signed shoes with a signed collector 12-inch vinyl 'Confessions on a Dance Floor' album showing her wearing the shoes, and a signed vintage poster.
The fastest man on land, Usain Bolt, the fastest man on skis, Didier Defago, the fastest man in cricket, Jonty Rhodes, the fastest team on four wheels, the Ferrari F1 team and football legend David Beckham, have all contributed items, which are sure to race out of the auction, to be conducted at the Gala by Geoffroy Ader of Sotheby's, Geneva.
The Heart For India Foundation (http://www.heartforindia.org) supports two orphanages for abandoned girls and an advanced learning programme for very poor students in South India. The Foundation feeds 1,600 children every day.
Princess Francoise Sturdza, founding President of the Heart For India Foundation, in thanking the many celebrities for their generosity, said: "The wonderful generosity of these superstar friends will help hundreds of children in South India to achieve their own star potential."
For more information, please contact Princess F. Sturdza at +41 (79) 709 0707 or email at heartforindia (at) heartforindia (dot) org
###