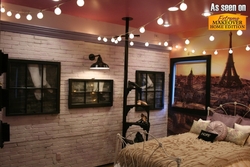 "We know people are tracking every dollar they spend, and we've worked hard to bring this new lower-cost line of Cambridge faux panels™ to market." Steve Barron, CEO Barron Designs
Deer Park, NY (PRWEB) April 28, 2010
FauxPanels.com today announced a new line of stone and brick panels, offering the lowest cost of any of their faux panel products. The new Cambridge line offers all the advantages of FauxPanels' other products, including high durability, light weight and ease of installation with the look of genuine stone and brick. But Cambridge stone and brick panels are even more affordable for today's homeowners and builders.
"We're extremely pleased with these new Cambridge faux panels," said Barron Designs CEO Steve Barron. "We know people are tracking every dollar they spend, and we've worked hard to bring these new lower-cost panels to market. They look great, and they're a great value."
Wide range of designs and colors for interior design
The economical Cambridge stone and brick panels come in five stone and brick designs and in a range of appealing, natural colors. Stone veneer designs include random rock, stacked stone, stone wall and dry stack. Each design is available in four blends of tans and grays -- tan, light tan, sand gray and light gray. The traditional brick veneer panels are available in red or white blends plus an aged-brick mix that includes whitened and blackened red bricks for an authentic old-brick look.
Imitation panels that are inexpensive but not cheap
Some imitation stone and brick siding and panels are made of cheap plastics using equally cheap molds and finishes. Cambridge panels are made of durable polyurethane using molds made from real stone and brick and finished with professional attention to realistic detail. The seamless interlocking system adds to the realism of the veneer panels.
Polyurethane is strong and tough and does not rot, crack or attract insects. The design, texture and finish of the Cambridge panels give them an authentic look that cheaply made products cannot match. And of course they are waterproof and weather resistant for use outdoors.
Cambridge faux stone and brick panels are equally at home inside or outside. Used inside, they are free of any harmful vapors or annoying smells. Used outside, they hold up under all kinds of weather, resist fading and add insulation value.
Inside or out, faux panels are easy to install and require no special foundation or support as real masonry does. Anyone with general woodworking skills and tools can install the panels by following clear step-by-step instructions.
FauxPanels leads the industry with the most realistic faux brick, stone and wood paneling, siding and column products on the market. It is a subsidiary of Barron Designs Inc., a family business dedicated to the home improvement industry since 1972. For more information, visit FauxPanels.com.
###