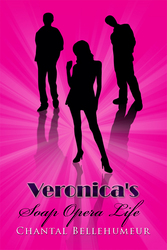 Pittsburgh, PA (Vocus) April 28, 2010
Veronica's Soap Opera Life, a new novel by Chantal Bellehumeur, has been released by Dorrance Publishing Co., Inc.
Veronica is a young, single mother, who always had bad luck with men. Although she has a negative view of men in general, and has trouble trusting them, she can't seem to live without them. In her attempt to avoid being alone like her divorced mother, she becomes involved with men too quickly. She subconsciously goes for the bad boy types, and pushes the decent guys away. Unfortunately, she doesn't realize the negative effects her unhealthy patterns are having on her emotional well being until her life has turned into a soap opera.
Veronica's diary is filled with her complaints and personal thoughts on men, her sarcastic and over analytic remarks, as well as all her frustrations and dramas mostly caused by the men in her life. Of course, she also details her love interests and the affairs she gets herself in-and-out of.
Chantal Bellehumeur was born on June 30, 1981. She lived half of her childhood in Toronto, and the other in Ottawa. At the age of fourteen, she started taking acting classes to overcome her shyness. She enjoyed it so much that theatre became her favorite hobby. After performing in a couple of amateur stage productions, she joined a Youth-run Theatre Company. Chantal moved to Montreal at the age of nineteen, so that she could study theatre at Concordia University.
Yet, once her son, Aidan, was born, he became her number one priority. She decided to put her acting career on hold before it really began. However, she still worked as an extra in several movies, television shows, and commercials.She completely stopped this part-time work once she found a suitable office job. She always enjoyed writing, but never took her work seriously until people started telling her she should. As a single mom, Chantal discovered that writing on her spare time was much more feasible than acting. She misses the stage, but feels that her acting talent has become rather rusty. She now has a newfound love for literature. She also picked up painting as a fun hobby. Chantal still lives in Montreal with her son, whom she loves more than anything in the world!
Belleheumer is also the author of Veronica's Attempt at Romance and Veronica's Happily Ever After.
Veronica's Soap Opera Life is a 92-page paperback with a retail price of $13.00. The ISBN is 978-1-4349-9588-9. It was published by RoseDog Books of Pittsburgh, Pennsylvania. For more information or to request a review copy, please visit our virtual pressroom at http://www.rosedog.com/pressroom or our online bookstore at http://www.rosedogbookstore.com.
###