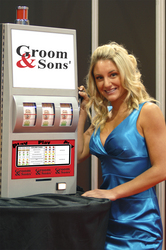 The promotion was very successful for us. We had people standing in line waiting to play.
Garland, Texas (PRWEB) April 28, 2010
Groom & Sons Ace Hardware, located in Garland, Texas, celebrated its Grand Opening by awarding $10,000 cash using SCA Promotions' JackPot™ Machine, a fully customizable turnkey promotional solution.
"We wanted to get the word out about our Grand Opening and attract new customers, and we found the JackPot Machine to be the perfect method of achieving those goals," said Don Eberhardt of Groom & Sons. "We have used the slot machine before, and our customers have really enjoyed it."
Everyone who visited Groom & Sons during the Grand Opening was given the chance to pull the handle on the JackPot Machine. The symbols the three reels landed on indicated the prize the customer had won.
"All customers who played walked away with a prize," said Eberhardt. In addition to the $10,000 grand prize, customers could win a gas grill, a patio set, a fertilizer package, paint, a water cooler, and discounts off future purchases.
Juan Patlan of Carizzo Springs, Texas took home the $10,000 cash prize. SCA Promotions provided the promotional risk coverage on the grand prize and promptly sent Groom & Sons a check to award Patlan.
"The promotion was very successful for us. We had people standing in line waiting to play. Juan was in shock when his reels landed on the grand prize symbols," said Eberhardt.
"SCA's JackPot Machine is the perfect way for businesses to attract a crowd and draw attention. Everyone loves the chance to play a Vegas-style game for a big prize, and our newly redesigned JackPot Machine provides clients with even more customizable features," said Lisa Lantz, Vice President of Sales for SCA Promotions.
About Groom & Sons Ace Hardware
Groom & Sons is a full-service hardware store with locations in five Texas cities. Founded in 1972 by the five Groom brothers, the store has grown from three employees to one hundred employees. In addition to hardware, lumber, appliance, and flooring sales, Groom & Sons also provides an extended maintenance & repair assortment with direct delivery for schools, municipalities, hotels, apartment buildings and office buildings.
About SCA Promotions
Dallas-based SCA Promotions (http://www.scapromotions.com) is the world's leading provider of promotional risk coverage for contests, games and events. Founded in 1986, the company has covered billions of dollars and paid out over $162 million in cash and prizes for sales and consumer product promotions, lottery and casino jackpots, radio contests, direct mail, Internet and sports promotions. SCA has offices in Dallas, London, Munich and Calgary, with affiliate partners across the globe.
For more information, contact Tanya Mathis at 214-860-3700
###