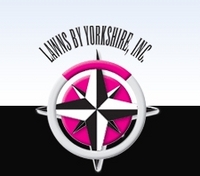 Westwood, NJ (Vocus) April 28, 2010
Westwood, NJ -- Lawns By Yorkshire (http://www.lawnsbyyorkshire.com), a commercial landscape management firm that provides green and sustainable landscape and snow services throughout New Jersey and New York, and the NBA NET'S concluded a week of activities devoted entirely to environmental stewardship, education and heroism.
Steven Jomides, CEO of Lawns by Yorkshire, presented court-side at the NBA NET'S IZOD Center the first-ever Greenest Fan award. NET fans had to write an essay explaining what made them GREEN. Craig and Jeanine Broek won the award based on their recycling, composting and bicycling efforts, including of notable interest, purchasing gently-used items for their newborn. The Broek's received the Earth Machine (earthmachine.com), which is the world's best-selling backyard compost bin compliments of Orbis®, and the Wiki Garden (thewikigarden.com), a sustainable and cost-effective organic food production system, as prizes. They were also rewarded with four tickets to the Nets vs. Hornets game on April 4th, 2010, and a basketball autographed by Brook Lopez courtesy of the Nets and Lawns by Yorkshire.
Jomides spoke at the Newton School in Newark, New Jersey and educated the sixth through eighth graders on the ecological and health benefits of plants. Continuing the educational focus on April 7, 2010, in association with Lawns by Yorkshire, the NET'S visited a class at E. Roy Bixby Elementary School in Bogota, New Jersey. Lawns by Yorkshire donated Spruce tree saplings and Farmer's Almanacs to all the students in the class. Jomides said, "By combining ecology and education with the spirit of community-giving everybody benefits. We're committed to making our planet and community a Greener and healthier environment. We value our relationship with the NET'S as they have exhibited that they are dedicated environmental stewards."
NETS Basketball and Jomides presented the Go Green Award to Rosalie Lavinthal, from Partners for Parks, on center court during the Nets vs. Bulls game. This award was given to a local Green hero in the tri-state area during NBA Green Week. Rosalie represents the Partners for Parks division for the Land Conservancy of New Jersey and is responsible for the coordination and implementation of their volunteer programs. Steven Jomides, founder and president of Lawns by Yorkshire, presented the two prizes which again included the Earth Machine and The Wiki Garden, to Rosalie for her commitment to assisting in the growth of local parks.
About Lawns By Yorkshire:
Founded in 1988, Lawns by Yorkshire, headquartered in Westwood New Jersey is an award winning landscape and snow removal leader dedicated to serving the needs of general contractors, developers, property and facility managers, owners, architects, landscape architects, engineers, athletic directors, and municipal authorities in multiple industry segments by providing a seamless service portfolio of economical, sustainable and comprehensive landscape solutions. As a recognized industry leader, Lawns by Yorkshire provides state-of-the art equipment and a credentialed team of landscape professionals who focus on best management practices, customer experience and return on investment. The company provides a portfolio of professional services including landscape maintenance, landscape installation, water management, irrigation, tree-care and snow services to the multi-family, retail, corporate, industrial, school and corporate campuses, hotel and hospitality, senior living and commercial markets in New Jersey and New York. With its roots sown deeply into the community, Lawns by Yorkshire has a corporate stewardship and scholarship program that donates a portion of its earnings back to helping the communities it serves. Visit http://www.lawnsbyyorkshire.com for more information.
Contact: Judith M. Guido, 818-800-0135
###