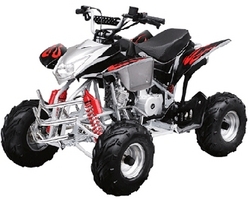 Madison, WI (PRWEB) April 29, 2010
Power Sports and Youth Atv's are now affordable with the launch of Q9PowerSports.com, Spring time Sales event, This easy and fun site that lets consumers browse a huge selection of low cost Atv's, dirt bikes and Go Karts. Instead of endlessly browsing a pre-designed selection of stock like at other Power Sports vendors, Q9PowerSports.com users are able to select a machine from start to finish with photos, illustrations, customer testimonials and Specifications. One the customer decides on a machine Q9PowerSports.com will ship it for free right to their Home. Q9PowerSports.com features Youth machines as well as adult sized units with prices starting as low as $600 delivered.
Q9PowerSports.com is on a mission to revive the thrill of Atv and dirt bike riding and remove the high prices associated with the thought of buying one. Q9PowerSports.com has trained service technicians ensure that all customers have a resource to ensure customer satisfaction. Customers can even call and speak to one of Q9PowerSports.com trained sales staff that can answer questions that people may have.
When it's gift-giving time, Q9PowerSports.com has it covered with the best gifts in the business. When you give the gift of one of Q9powerSports.com machines, not only will have given the greatest gift ever, but you will also make a lasting memory for the life of the person who receives it. It's the easiest, most affordable gift solution for looking like you spent a fortune, but not really spending a lot. The final order always includes Free Shipping, so the machine arrives on a semi truck and it's 95% assembled already.
All Kids Atv's, Utility Atv's, Dirt bikes and Go Karts from Q9PowerSports.com comes with a 6 month parts warranty and life time technical support from our trained service technicians. The Q9PowerSports.com experience offers higher value at a price that's not comparable to traditional Power Sports outlets, so skip the High interest Bank loans. Log on today and bring home an affordable Power Sports machine today.
For more information about Q9PowerSports.com, or to checkout our latest deals, visit http://www.q9powersports.com or call toll free at 1-888-252-9250
###