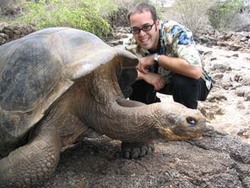 in addition to the Galapagos Islands cruises and the mainland Ecuador land vacations, interested travelers may add optional customized extensions (at additional costs) to Machu Picchu, Peru; Lake Titicaca, Bolivia, plus other South America countries.
San Diego, CA (PRWEB) April 29, 2010
Since the mid to the late 1970s, there has not been more of a targeted and aggressive government or private sector initiative launched to increase the number of worldwide vacation travelers interested in visiting the ever-growing number of man-made and natural attractions located throughout the Ecuadorian mainland; an area roughly the same size as the state of Arizona in the USA. The one-week (7-night) Wildlife Vacations' $99 per person mainland Ecuador vacation was specifically planned to allow the participating travelers adequate time to visit some of the key, more in-depth, Ecuadorian destinations, such as the spectacular Amazon Rain Forest and the Andean region of the country which includes the "Middle of the World" visitor site complex (also included in the $99 package).
With proper vacation planning and assistance of a Destination Specialist from Wildlife Vacations, the interested travelers or their travel agents can take advantage of the tour and cruise operator's itinerary planning expertise to create the most logical and efficient Ecuadorian itinerary, including the required minimum of 1-night stop-overs in Quito or Guayaquil before and after your 7-night Galapagos Adventure cruises.
The vessels whose 7-night Galapagos adventure cruises qualify, when booked directly through Wildlife Vacations, Inc. by the client(s) or retail travel agents are: the M/V Galapagos Legend, M/V Galapagos Explorer 2 both 5-star vessels (with capacity of up to 100-passengers each), the Coral 1 yacht, 5-star (36-passenger capacity), the Coral 2 yacht, 5-star (20-passenger capacity) and the Galapagos Odyssey yacht, 5-star (16-passenger capacity).
In addition to the extraordinary savings related to the $99 per person one-week Ecuador land vacation, there has never been a better time for discerning travelers to book a 7-night Galapagos adventure cruise. Wildlife Vacations, Inc., the premier cruise and Ecuador tour operator of upscale Galapagos adventure cruises, is offering more activities and amenities for travelers to book travel throughout the summer and prior to December 14, 2010.
According to Jonathan R. Pinto, the President and CEO of Wildlife Vacations, Inc., "in addition to the Galapagos Islands cruises and the mainland Ecuador land vacations, interested travelers may add optional customized extensions (at additional costs) to Machu Picchu, Peru; Lake Titicaca, Bolivia, plus other South America countries."
Learn more by visiting http://www.Galapagos-Inc.com or by calling toll-free 877.385.1433
###